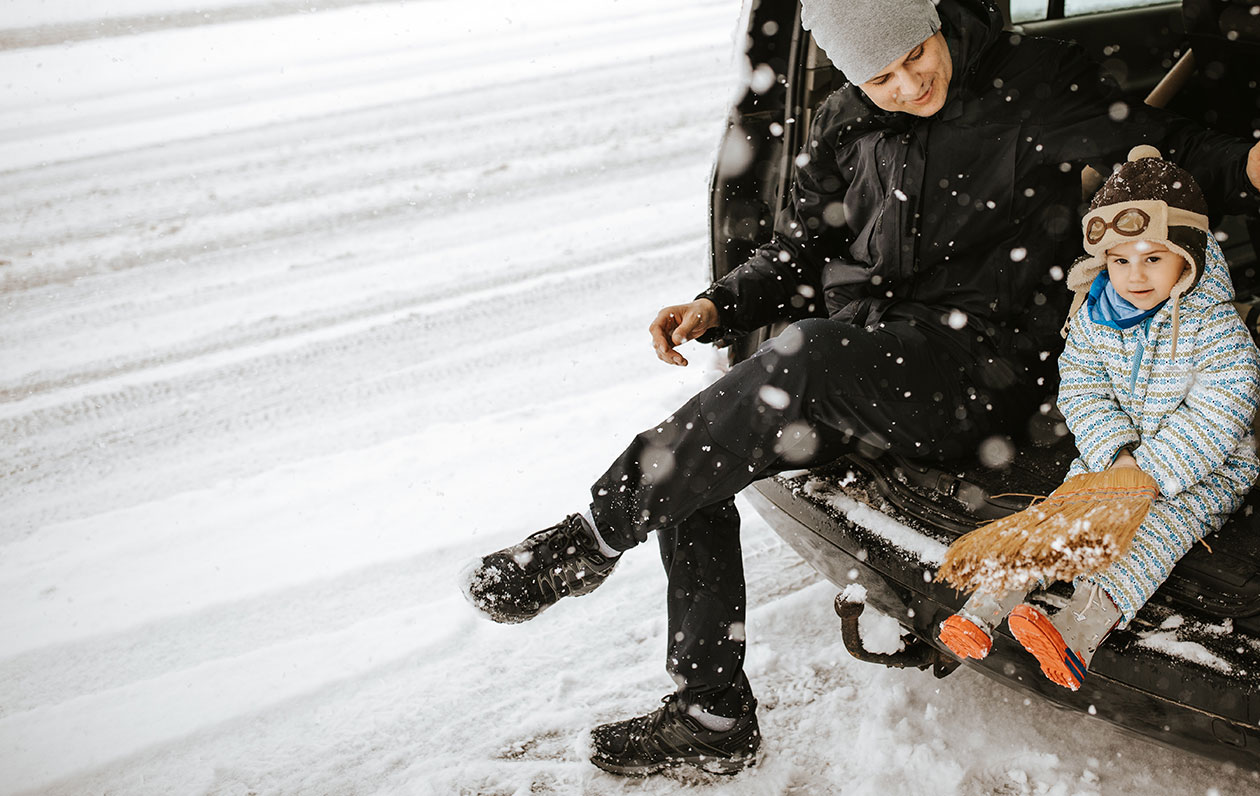 Tips for driving safely in winter
Dark evenings, bad weather and icy roads mean driving in winter can be pretty difficult. Here's our top tips to keep you safe and sound on the road.
Before setting off
Clear all the frost, condensation or water off your windows to give you maximum visibility. It's worth knowing that if you drive with an obscured windscreen, you could be fined.
When de-icing your car, avoid leaving it running to head back indoors. This not only poses a theft risk, but idling is an offence with a maximum fine for repeat offenders of £1,000.
You'll be using your lights more in winter, so check they're working, clear off any ice and give them a good clean.
Renew your wiper blades if they leave smears on your windscreen – smears can make the glare from oncoming headlights worse. Also, make sure you've got plenty of screen wash that works in lower temperatures.
Check your tyres for overall condition. Legally the tread depth should be a minimum of 1.6mm and tyres in poor condition could significantly increase stopping time and distance. If you decide to use snow or winter tyres, remember to tell your insurer.
Check your breakdown cover is up-to-date and meets your needs. Did you know you can add Breakdown Cover, provided by RAC, to your Tesco Bank Car Insurance policy? There are four levels of cover available as optional extras, and for an additional charge, making it easy to find one that's right for you. Tesco Bank Breakdown Cover is underwritten by RAC Insurance Limited.
Keep a pack of winter essentials in the car: a blanket, torch, high-vis jacket, phone charger, first-aid kit, warning triangle, jump leads and a square of carpet for putting under the wheel if you get stuck in snow. And don't forget sunglasses, to protect your eyes from the glare of low winter sun.
During the drive
From ice and rain to snow and fog, winter weather can make driving more dangerous. So, the most important thing is to slow down.
On ice, reduce wheelspin when you set off by pulling away in second gear and easing your foot off the clutch gradually. Apply your breaks gently.
Develop a smoother, gradual braking style as this could help your tyres to cope with any slippery conditions.
Keep a constant speed when going uphill and try to minimise changing gear; reduce braking by using a low gear when going downhill as it could cause you to lose grip.
If conditions are serious and you do need to use your fog lights for better visibility, make sure you turn them off when conditions improve, to avoid dazzling other drivers.
Stopping distances can be up to 10 times longer when it's icy, so keep a big gap between you and the vehicle in front.
Where possible, plan to use main roads that are more likely to be properly gritted, cleared of debris and well lit.
If you skid, steering gently into it while keeping your hands firmly on the wheel could help. Try not to brake, as this might make the situation worse.
Important information
The content on this page aims to offer an informative introduction to the subject matter but does not constitute expert financial advice specific to your own situation. All facts and figures were correct at time of publication and were compiled using a range of sources.