3 reasons why Clubcard Pay+ gives you so much more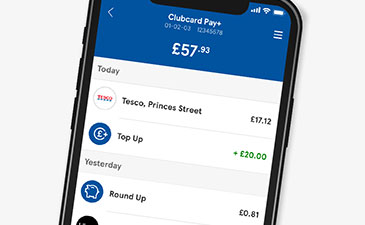 1. The power to make your money go further
Add your shopping money to your Clubcard Pay+ account using our secure Mobile Banking App.
Top up your Clubcard Pay+ account from any UK bank account
Pay for your shopping with your new Clubcard Pay+ debit card
About our debit card fees
and charges
Easily keep track of what you spend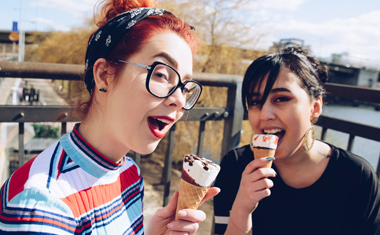 2. The power to round up your spend
Effortlessly save when you spend with Clubcard Pay+.
You can round up purchases to the nearest pound and add the difference into a savings pot for a rainy day
To help you save money faster, you can switch on Big Shop, Big Round Up for bigger shops in the Tesco Bank Mobile App.
It's always there when you need it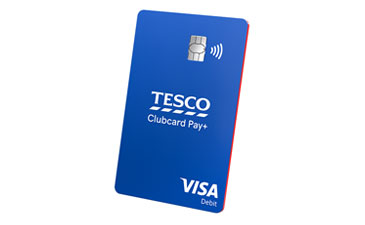 3. The power to double your Clubcard points
It's simple. Your Clubcard Pay+ debit card is your Clubcard. So, you'll collect your Clubcard points as usual in Tesco.
Plus, for the first 3 months after opening your account, you'll receive 1 extra Clubcard point for every £1 you spend in Tesco with Clubcard Pay+. That's double Clubcard points for the first 3 months.
These extra points can take up to 5 working days to arrive in your Clubcard account and will show as 'TB Clubcard Pay+ Tesco spend'.
And the rewards don't stop there - when you shop with Clubcard Pay+ outside of Tesco, you can collect 1 Clubcard point for every £8 you spend.
Grow a pot of savings by rounding up your purchases to the nearest pound.
Apply for Clubcard Pay+
Tesco Clubcard Pay+ is provided by Tesco Bank and is available to Tesco Clubcard members who are resident in the UK and aged 18 or over. Accounts are subject to status.
To start your application, you'll first need to login to Tesco.com or create an account. This is so we can sync your Clubcard data when you apply for Clubcard Pay+ with Tesco Bank.
Financial Services Compensation Scheme
Independent Service Quality Survey Results
As part of a regulatory requirement, an independent survey was conducted to ask approximately 1,000 customers of each of the 17 largest personal current account providers if they would recommend their provider to friends and family. The results represent the view of customers who took part in the survey.
These results apply solely to current account providers, a product which we closed on 30th November 2021.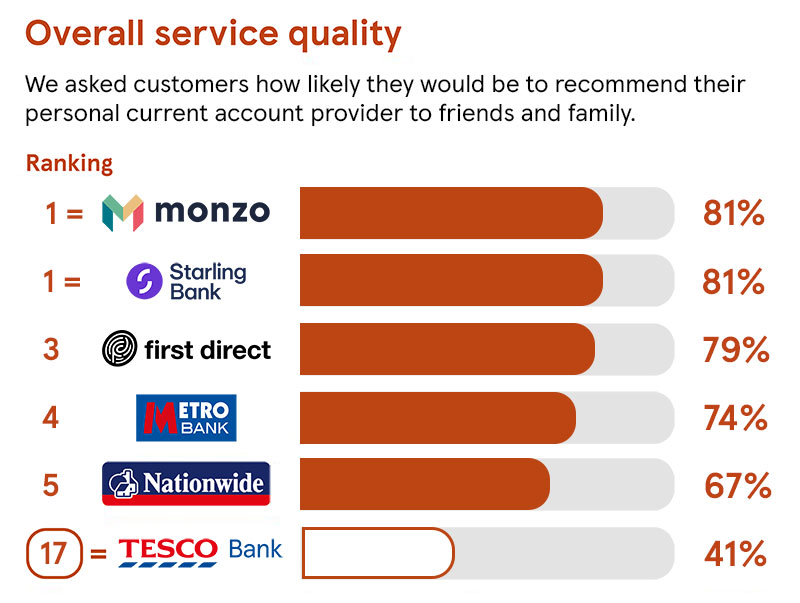 Contact us, we're here to help
You may find your query has already been solved in Your Community, a place to search for answers and find support, as well as ask questions and share knowledge with other customers.
We're here to talk to you on the phone 24 hours a day, seven days a week, from here in the UK.