Low Fee Balance Transfer Credit Card
With 15 months no interest to pay on balance transfers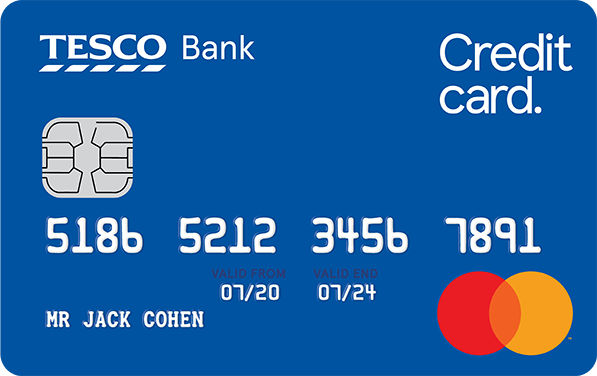 Interest on balance transfers for 15 months (low 0.99% fee)
Interest on money transfers for the first 9 months (3.99% fee)
Collect Clubcard points almost every time you spend in and out of Tesco
Representative
24.9

%

APR
(variable)
Interest rate on purchases
24.9

%

p.a.
(variable)
Assumed credit limit
£1200
Your APR and credit limit may vary depending on your circumstances.
What is a balance transfer card?
A balance transfer credit card is a credit card that lets you transfer the balance from one or more other cards. You can then keep those debts in one place and make one monthly payment for them all, so depending on your situation, it could be easier to keep track of them.
Our Tesco Bank Low Fee Balance Transfer Card has a 0% interest rate for 15 months from the date of account opening, with a 0.99% transfer fee. Having a 0% interest period could help you get a head start on paying back the money you owe.
You can also use our balance transfer card to transfer money from the card to your bank account and enjoy 0% interest on it for 9 months from account opening. You can transfer up to 95% of your credit limit and there will be a 3.99% transfer fee for moving money from your card, and you can pay your balance back the same way you would a normal credit card.
After the 0% interest time period is up, you will be charged at whatever Annual Percentage Rate (APR) you were offered with the card.
Your credit limit and APR may vary subject to your individual circumstances. You can transfer up to 95% of your available credit limit. To get the 0% interest rate you'll need to make your transfers within 90 days of opening your account.
How to transfer a credit card balance
First you need to choose and apply for the balance transfer card that best suits you. Once you have been approved, you can give the details of the other credit card balances you'd like to transfer.
If you choose our Tesco Bank Low Fee Balance Transfer Card, we'll transfer the balances for you. It may take a few days and you should make any payments due on your old cards up until we tell you the transfer is complete. Then you'll be ready to start paying your debts off on your new card. Be sure to take a note of when your 0% percent interest rate will end too.
Why choose a balance transfer card?
Depending on your personal circumstances, a balance transfer card could make it easier for you to organise your finances by:
Consolidating all your credit card debt so you only have to make one minimum payment a month
Having an introductory 0% interest period so you can start paying off your debt without also paying interest on existing balances
Transferring your debt onto a balance transfer card is simple and we can transfer your existing balances for you
You can use your balance transfer card to make purchases and you won't be charged interest if you pay off all balances that aren't on a 0% rate in full each month
What happens when the 0% interest period ends?
Once the 0% interest period ends, you'll be charged interest on the amount of money you still have to pay back. This Annual Percentage Rate (APR) is set out at the time you are approved for the card. To pay as little interest as possible on transferred balances, it's best to try to pay off your debt within the 0% interest period.
Tesco Bank Credit Cards are available to UK residents aged 18 and over. Subject to status.
Tesco Bank Credit Cards are provided by: Tesco Bank, PO Box 344 Newcastle Upon Tyne, NE12 2GF