Over 1.5 million of our customers are using our App to:
Easy registration in just 3 simple steps
Manage your money on the go. Start using our App in just 3 simple steps.
1. Enter your personal and account details
2. We'll verify you with a text message
3. Choose your login details for the App
Head to our registration page to find out more.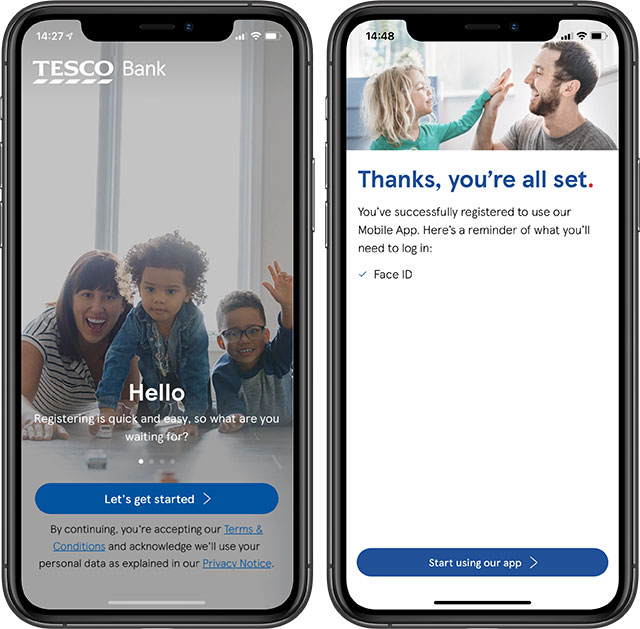 We're here to help
From getting set up and logging in, to understanding what features are available for you, visit our Mobile App Help pages.
Log in and shop online securely every time
Easier logins
Log in and manage your accounts in a speedy and secure way, using something that's totally unique to you – your fingerprint. On iOS, if you have an iPhone X or later, you can also use Face ID. This can be switched on by going to the 'Security' section in the 'Settings' menu of our App.
Safer checkouts
To make it safer and easier when you shop online, we've added an extra layer of security. During checkout, our App will send you a notification so you can authorise your payment. Switch on notifications by going to the 'More' section in the 'Settings' menu of our App.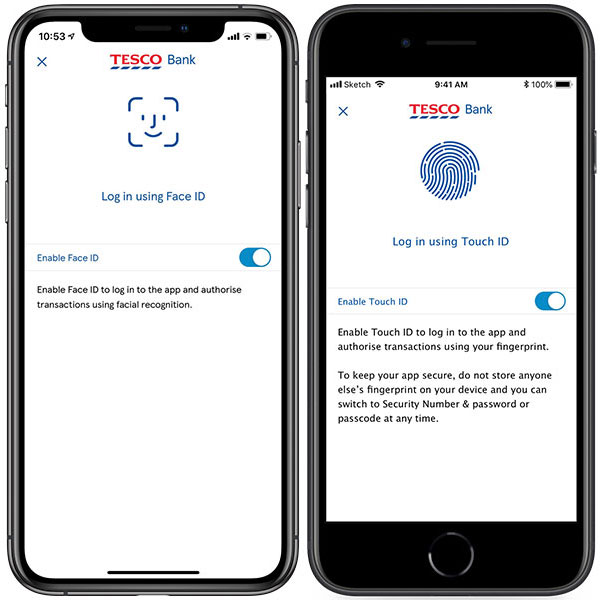 Join the 1.43 million customers who have chosen to go paperless. Going paperless is:
Sensible - saving paper helps us protect our planet
Simple - set payment reminders
Secure – all your statements in one safe place
By cutting paper waste you're helping us protect our planet.
We'll email you when your statement is available. However, you can still download, print or request a paper statement whenever you need it.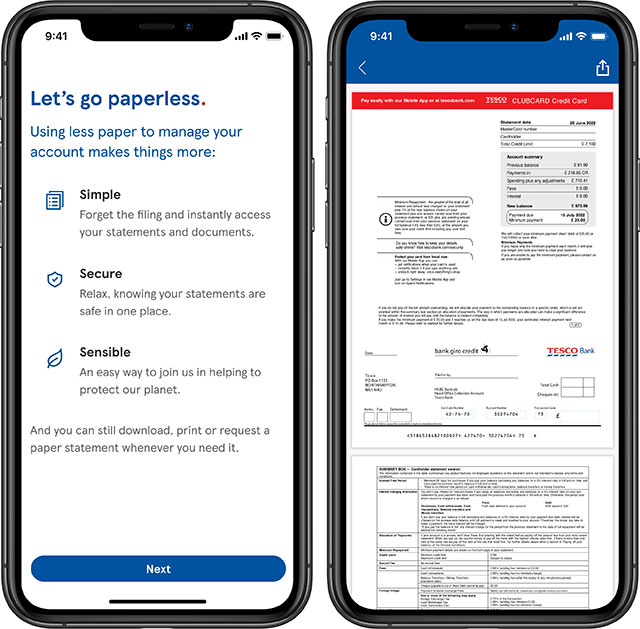 Update your personal details
Easily update your details for your credit card, Clubcard Pay+, savings or loan account in our App.
Simply log in, go to the 'Settings' menu and then select 'Personal details'. Tap 'Edit' on the details you'd like to change.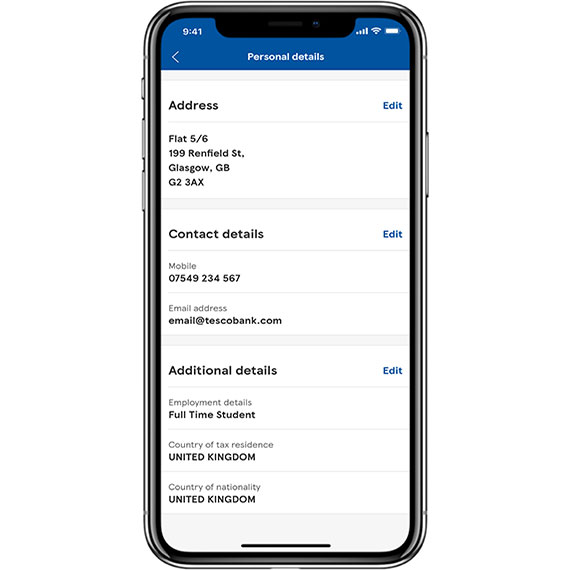 Check your balance in seconds
Check your balance on the go without the need to log in, using Balance Peek. View your balance on iPhone Today Notifications, Apple Watch and on Android Widgets.
You can also easily view transactions whether they're pending or settled, and we've made it even easier to find what you're looking for by adding merchant logos for Clubcard Pay+ customers.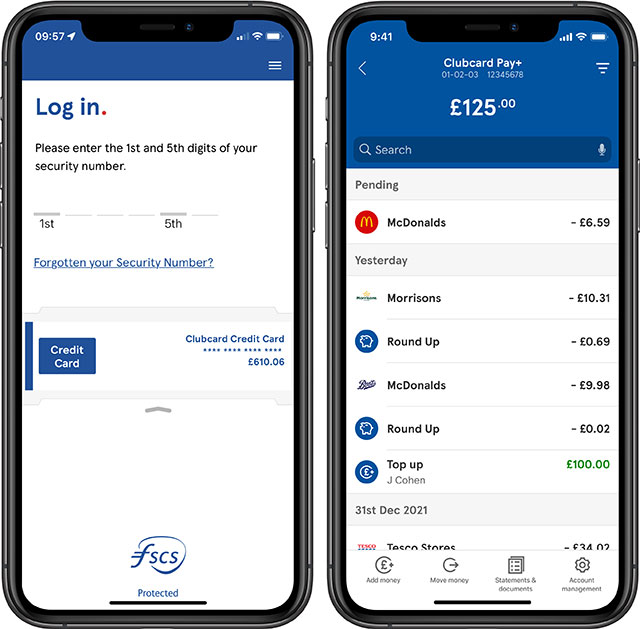 Take control of your credit card
Easily pay your credit card via Pay by Bank, debit card or Direct Debit. Pay By Bank lets you make payments without the hassle of putting in your details every time. For most banks, you'll also be able to see your current account balance before you pay.
Make additional payments or pay off your loan early
Quickly and easily make an additional loan payment, at any time and at no extra cost. You can also get your early settlement figure to see how much it would cost to pay off your loan early. All you need is your loan account number and sort code, and the debit card details you'd use to pay.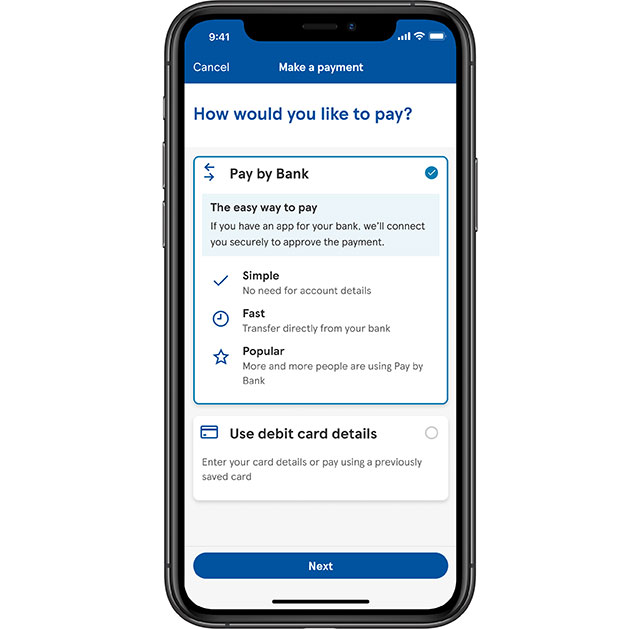 Simple payments and transfers
Want to split last night's restaurant tab or pay the bill that's just landed on the doormat? With our App, you can pay an existing payee or add someone new using their name, account number and sort code. Find out how to add a new payee and make a payment by heading to Your Community.
You can also transfer money between your Tesco Bank accounts. Simply go to 'Transfers' and select the account you want to move money to.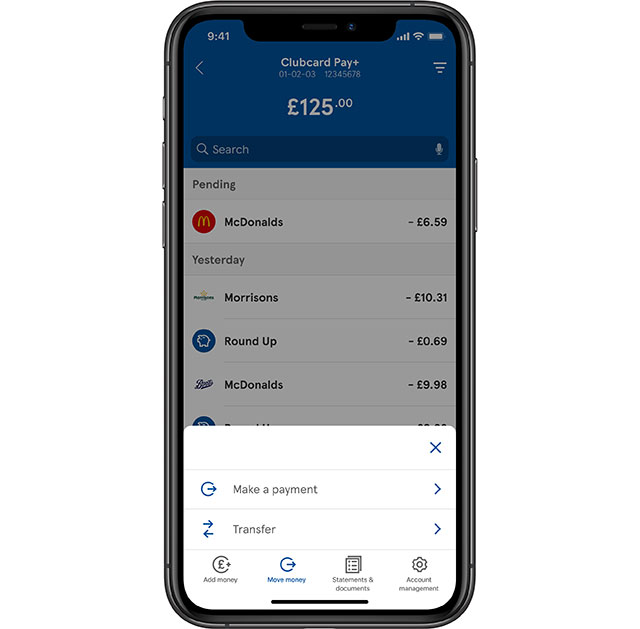 Top up and add your shopping money to Clubcard Pay+ using our App. You can also round up purchases to the nearest pound and add the difference into a savings pot for a rainy day.
Big Shop, Big Round Up
To help you save money faster, switch on Big Shop, Big Round Up. This lets you round up more on bigger shops. Set the amount you want to count as a 'big shop', and the 'big round up' will round up your spend to the next nearest £5.
For example:
If you set £50 as a 'big shop' and make a payment of £52 on your Clubcard Pay+ Debit Card, £55 will leave your Clubcard Pay+ account. The extra £3 will be transferred to your Round Up account (this will show as a separate transaction).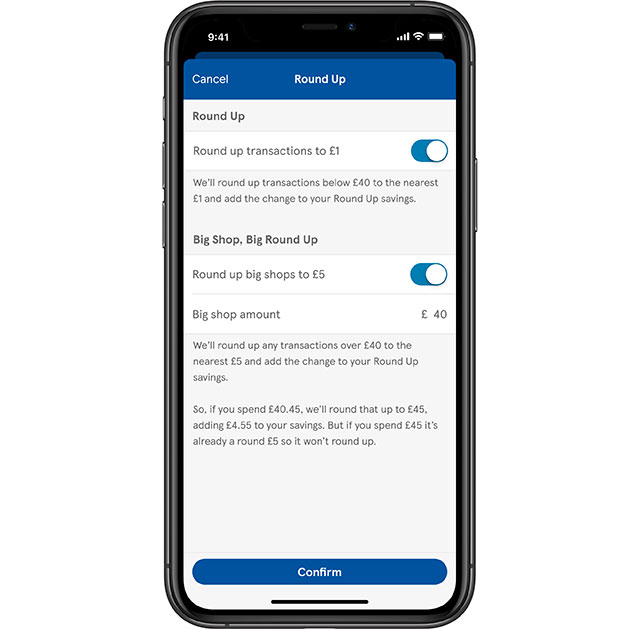 Helpful notifications to keep you in the know
Stay on top of your account, your spending and your balances with our notifications.
We can notify you when you spend using your credit card and send a reminder when a payment is due. We can also notify you when you spend using your Clubcard Pay+ card, when your balance falls below a chosen amount and when money arrives in your account.
Switch on notifications by going to 'Settings' and selecting 'More' in our App.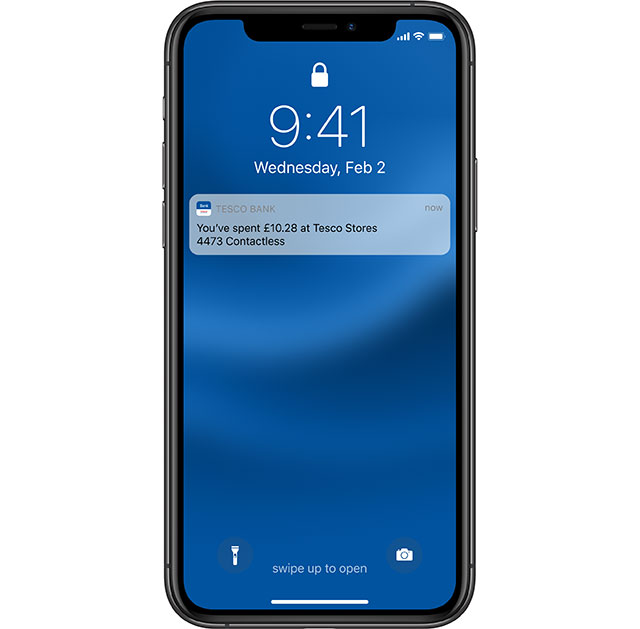 Logging in
What to do when you are first logging in, have forgotten your details or have trouble logging in from a new device.
Technical support
What to do when you have issues with your device, along with the most common error problems.
Looking for help?
If you need help with our App then head over to our Mobile Help page. You can learn more about logging in, registering and how to use our features, just click below.
Important information
Apple, the Apple logo, iPhone, and iPad are trademarks of Apple Inc., registered in the U.S. and other countries and regions. App Store is a service mark of Apple Inc.
Google Play and the Google Play logo are trademarks of Google LLC.