Thai Baht (THB)
Heading to Thailand? Buy Thai Baht before jetting off to make the most of your Asian adventure
Clubcard Prices

Clubcard Prices
Clubcard Prices are available for all currencies, just enter your Clubcard number on the next page. Full T&Cs below.
Purchase instantly

Purchase instantly
Conveniently purchase currency or prepaid travel money cards in-store at Tesco.
Home Delivery

Home Delivery
Free delivery on orders worth £500 or more.
Exchange rates may vary during the day and will vary whether buying in store, online or via phone.
Select currency
Error: Please select if you have a Clubcard to continue
Do you have a Tesco Clubcard?
How much would you like?
Error: Please enter an amount between £75 and £2,500
Get a better exchange rate as a Clubcard member
Buy your Thai Baht online and collect it from selected Tesco stores
Going to Thailand? Collect Thai Baht from your chosen Tesco store before you leave.
If you're going to Thailand, you can buy Thai Baht with Click & Collect and pick it up when you do your weekly shop.
Simply place your order online, and collect your Thai currency from a Tesco Travel Money bureau or selected customer service desks. You can select a date to collect your currency when you place your order.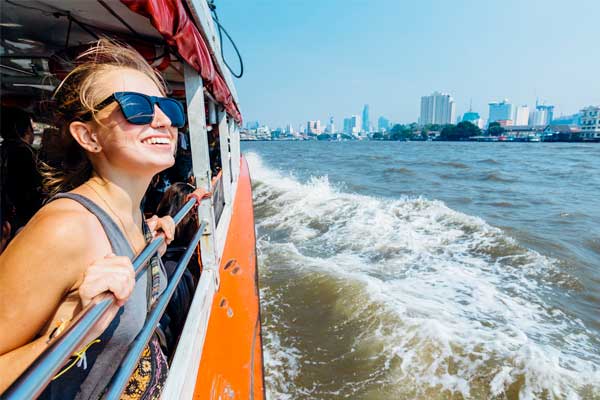 10% off our Travel Insurance when you buy Tesco Travel Money
As a little thank you, when you buy your travel money with us, we'll give you a voucher code for 10% off our Travel Insurance. The code is for new policies only when you buy direct and must be redeemed by 31 January 2024.
Plus, Clubcard members can get this discount as well as their Clubcard discount. These are applied consecutively.
Tesco Bank Travel Insurance is arranged and administered by Rock Insurance Services Limited and underwritten by Inter Partner Assistance S.A. Travelex Agency Services Limited and Travelex Currency Services Limited are Introducer Appointed Representatives of Tesco Personal Finance plc for Travel Insurance.
How far could your Thai Baht go?
Buy before you fly
Benefits of planning ahead
Buying your Thai Baht in advance means you'll be able to pay for transport – including tips for taxi drivers – and food and drink easily, as soon as you arrive.
Taking Thai Baht with you means you can relax and focus on enjoying your holiday without having to worry about finding a cash machine. It's also important to remember that ATMs in Thailand may charge you a fee if you withdraw Thai Baht when you are there.
Exchange rates can fluctuate. When you buy your currency in advance, it means you can be sure of what rate you are getting. If you withdraw cash while you are away, you may not get the same exchange rate.
Get your currency when it's convenient for you
You can use Click & Collect to arrange a time to pick up your Thai Baht as part of your weekly shop, either from a Tesco Travel Money bureau or customer service desks. You can also use our home delivery service, which is free for online orders of £500 or more.
Exchange rates can change throughout the day and may vary depending on whether you buy in-store, online, or over the phone.
Some common questions about the Thai Baht
What is the Thai Baht?
The Thai Baht is the official currency of Thailand and it's issued by the Bank of Thailand. You'll often see it abbreviated to THB and its currency symbol is ฿.
Thai Baht coins are available in denominations of 1฿, 2฿, 5฿ and 10฿, while the banknotes are 20฿, 50฿, 100฿, 500฿ and 1000฿. You may also come across 10฿ notes, but these are no longer being printed however the old notes are still in circulation.
One Thai Baht can be subdivided into 100 Satang and there are 25 and 50 Satang coins. These have a very low value, however, and are usually given away as tips or donations.
What countries use Thai Baht?
The only country to officially accept Thai Baht is Thailand.
What are some fun facts about the Thai Baht?
Before banknotes were introduced in the 19th century, Thailand used coins, pot duang (handmade silver coins that were folded or bent into shape) and baked clay coins. Today, Thai Baht banknotes are made from a very durable cotton fibre and each denomination has a different thickness and distinct feel.
Thai Baht banknotes feature a picture of the king and in some shops, you may see notes displayed as a sign of respect. Carrying notes in your back pocket is frowned upon, as is stepping on money, as both can be thought of as being disrespectful to the monarchy.
Looking for a different currency?
We sell over 50 currencies. Order online for home delivery or collect from selected Tesco stores.
Card fees and cancellations
Buying foreign currency using a credit or debit card
No matter how you purchase your travel money, whether it be in store, online or over the phone, you will not be charged any card handling fee by us. However, regardless of your card type, your card provider may apply fees, e.g. cash advance fees or other fees, so please check with them before you purchase your travel money.
Click & Collect cancellations
You can cancel a Click & Collect order any time prior to collection. We'll refund you with the full Sterling amount that you paid for your order, unless you cancel less than 24 hours before your collection date, in which case we'll charge a £10 late cancellation fee.
We are unable to refund any fees charged by your card issuer, so please contact them if you have any further queries.
Currency buy back
When you get home, we'll buy your travel money back
When you get home, we'll buy your travel money back
Let us turn your unspent holiday money into Pounds. It couldn't be simpler.
Just pop into one of our in-store Travel Money Bureaux when you get home. We buy back all the currencies we sell in most banknote values and also the Multi-currency Cash Passport™. Buy back rates may vary during the day.
It doesn't matter where you bought your travel money, even if you didn't buy it from a Tesco Travel Money Bureau. We'll still buy it back.
Key product information
Tesco Travel Money is provided by Travelex
Tesco Travel Money ordered in store is provided by Travelex Agency Services Limited. Registered No. 04621879. Tesco Travel Money ordered online or by telephone is provided by Travelex Currency Services Limited. Registered No. 03797356. Registered Office for both companies: Worldwide House, Thorpewood, Peterborough, PE3 6SB.
Multi-currency Cash Passport is issued by PrePay Technologies Limited pursuant to license by Mastercard® International. PrePay Technologies Limited is authorised by the Financial Conduct Authority under the Electronic Money Regulations 2011 (FRN: 900010) for the issuing of electronic money and payment instruments. Mastercard is a registered trademark, and the circles design is a trademark of Mastercard International Incorporated.
Travel Insurance offer additional T&Cs
The voucher code should be entered or quoted when you buy your travel insurance – there is no cash alternative. The code is not valid if you buy through any cashback or price comparison website and only one voucher code can be used per quote. The discount cannot be applied to existing policies or renewals. Not available with Tesco colleague discount and doesn't apply to Later Life policies or product add-ons. The voucher code can't be used in conjunction with any other voucher codes or promotional offers.
Travel Money Clubcard Prices online additional T&Cs
Clubcard Prices
Clubcard Prices are available on the sell rate only for currencies in stock online, on your date of purchase. The Clubcard Price will be better than the standard rate advertised online on the date of purchase. When purchasing online you must enter a valid Clubcard number to obtain the Clubcard Price rate. Exchange rates may vary whether buying in store, online or by phone.
Clubcard Prices apply to foreign currency notes in stock on your date of online purchase. Due to constant market and currency fluctuations, rates on the date of purchase cannot be compared to another day's rates. The actual rate you receive may vary depending on market fluctuations. Clubcard data is captured by Travelex on behalf of Tesco Bank.
Check out the Tesco Bank privacy policy to find out more.
Contact us
If you've got a problem or query on your order, get in touch with us. We're here to help.