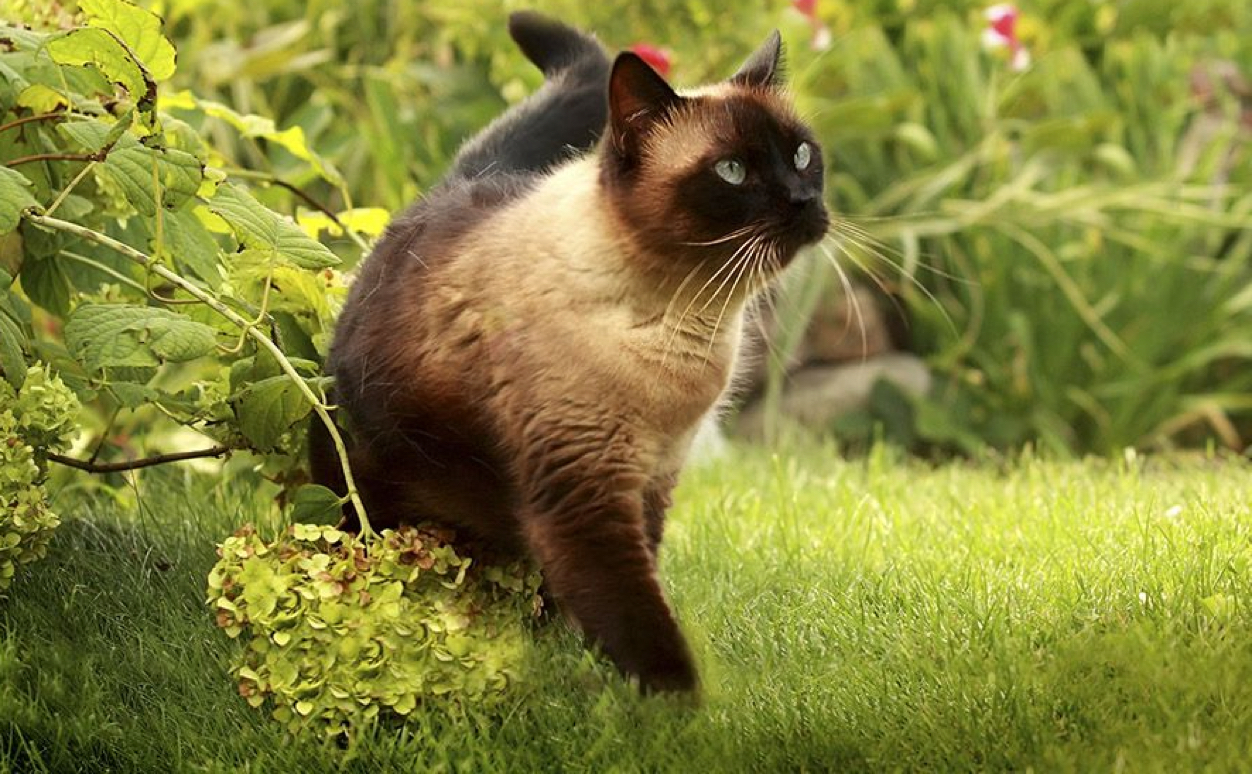 All about your Siamese Cat
Siamese cats are sociable, elegant and loud, with a very striking look. Find out what you need to know about this fun-loving lap cat, from their temperament and how they should be groomed, to their health and exercise needs.
Breed information & advice
Originating in Thailand, the Siamese cat has distinctive bat-like ears, bright blue eyes and a thin tail. They're a loving companion who thrives in social situations and might trail you from room to room, maybe even making their trademark yowling noise as they go. Here's more you should know:
You may want to fit child locks on some doors, as this breed is exceptionally determined and inquisitive by nature
Their short coat is low maintenance and any stroking or grooming you do will be more about forming a bond, and keeping their fur shiny.
They typically weigh between 2kg and 5kg, when fully grown
A healthy Siamese cat will usually live for 15 to 20 years
Typical size of a Siamese:: Medium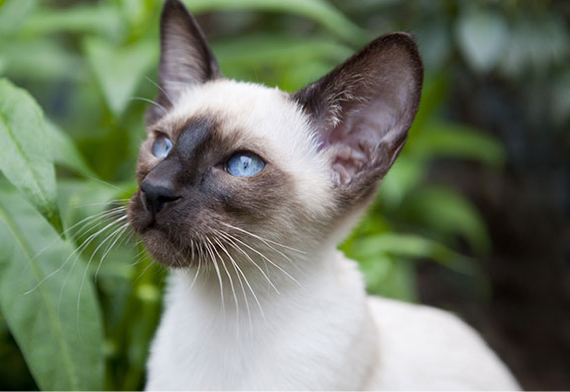 Recommended exercise & nutrition
Being both a lively and intelligent breed, you'll need to exercise both your Siamese's body and mind. Your cat will be very fond of human interaction, so playing games – such as fetch, or just patting a ball back and forth with them – are great ways to keep their mind active and help to build a great relationship between the two of you. Installing an indoor climbing tree will allow them to work their muscles.
Feed your cat a high-protein diet, with plenty of chicken and fish, twice a day and try to avoid any fibre or grain-based ingredients. Portion sizes will vary depending on the age, weight and lifestyle of your cat, and always read the food packet instructions.
Talkative and athletic
The Siamese cat isn't shy about expressing their opinion, and loves exercise and testing their intelligence.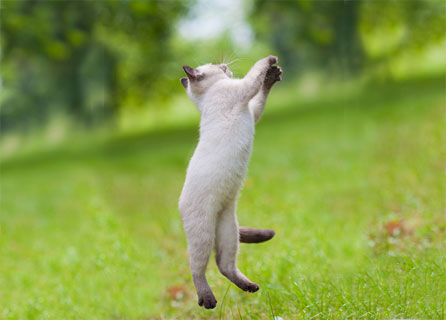 Common health problems & illnesses
There's no reason why your Siamese shouldn't live a long and happy life. However, being aware of the ailments your cat will be more prone to, along with the associated symptoms, can help you to deal with any health issues that crop up.
1. Lymphoma
The Siamese cat is susceptible to multiple cancers, especially in their older years. Lymphoma is a type of cancer that tends to be more predominant in Siamese cats than in other cat breeds. It develops when the body's lymphocytes become abnormal. Your vet will be able to do advise on the best course of treatment.
2. Hip dysplasia
Siamese cats are prone to hip dysplasia, an abnormal development of the hip joint which can lead to arthritis. This is a degenerative disease, meaning that it worsens over time. Your vet will be able to do a physical exam if you have any concerns.
3. Breathing issues
Feline asthma is one of the breed's more common health issues – a condition that causes the airways to narrow, making breathing difficult. It is not always clear why it happens, but it can be due to an irritant such as pollen or cigarette smoke. Symptoms to look out for in your cat include wheezing and laboured breathing.
4. Systemic amyloidosis
Systemic amyloidosis occurs when proteins called "amyloid" are deposited outside of cells in various tissues and organs, causing tissue and organ dysfunction. In these cats, amyloid accumulation can occur in various organs including the intestines, liver, and kidneys. Kidney accumulation can lead to chronic kidney disease, whereas accumulation in the liver often causes a very fragile liver. Spontaneous rupture of the liver, with often fatal bleeding into the abdomen, is not uncommon.
5. Strabismus
Strabismus is misdirection of the eye. In Siamese cats, the eyes may be somewhat cross-eyed. This may also be accompanied by a slight bobbling of the eyes when they're at rest. This condition is due to some abnormal wiring between the eyes and the brain, that is caused by the influence of the Himalayan gene that the cats carry. It's an accepted trait in these cats and doesn't cause major problems for them. It can however be a concern in other breeds and animals.
Cat name popularity
If you're struggling to think of a name for your Siamese, take a look at the most popular ones at Tesco Bank Pet Insurance for inspiration.
Average treatment costs
Wondering whether pet insurance for your Siamese cat is worth it? We've put together the top five conditions claimed for by Tesco Bank Pet Insurance customers in 2021. To give you an idea of how much vet bills can vary, we've shown both the average cost and the top 10% most expensive costs for each condition.
Top five conditions and average costs
Top five conditions and average costs

| Condition | Average Cost | 10% Most Expensive |
| --- | --- | --- |
| | | |
| | | |
| | | |
| | | |
| | | |
Tesco Bank Pet Insurance claims data from paid treatments including excesses from 01/01/21 to 31/12/21.
Considering Siamese cat insurance?
We know your cat is an important member of the family, so give them the protection they deserve with Tesco Bank Pet Insurance.
Tesco Bank Pet Insurance is arranged, administered and underwritten by Royal & Sun Alliance Insurance Ltd.
Grooming advice
Grooming your Siamese cat shouldn't be hard work, thanks to the breed's short, fine coat. A weekly combing session should be enough to ensure that all of the dead skin is removed and the oil within their coat is evenly distributed. Be careful, as over-brushing can damage the colour and feel of their fur. Setting a grooming routine when your cat is a kitten is best practice, to get them used to all the attention.
It's a good idea to maintain a high level of dental hygiene with your cat. Try to brush their teeth on a regular basis to stave off any potential bacteria and tartar build-up. Use a specialist feline toothbrush and toothpaste for the best results.
A scratching post will help them to keep their nails short, but you may need to trim your cat's claws if you can hear them clicking around on a wooden floor.
Fun & interesting facts
One of the oldest breeds of cat, the Siamese was first brought to Britain in the 1800s.
The breed can be over 30 different colours and patterns.
Rod Stewart, Andy Warhol and Marilyn Monroe have all owned one of these elegant cats.
Oscar the Siamese became an internet sensation thanks to his acrobatic efforts when opening a freezer door.
The breed hit the silver screen with a memorable appearance in the 1955 Disney animation Lady and the Tramp.
Key information
The content on this page aims to offer an informative introduction to pet breeds, but does not constitute expert veterinary advice. If your dog or cat falls ill or has an injury, contact your vet immediately. Tesco Bank Pet Insurance has a partnership with vetfone™ which means that as a customer, you can benefit from their advice as part of your policy.
Tesco Bank Pet Insurance is arranged, administered and underwritten by Royal & Sun Alliance Insurance Ltd. The vetfone™ service is provided by VetsDirect Ltd.
All facts and figures were correct at date of publication and were compiled using a range of sources.
What is vetfone?
Vetfone™ is a 24/7 unlimited, free telephone or video call service that provides expert advice from vets or vet nurses qualified with the RCVS (Royal College of Veterinary Surgeons). If your pet has a medical emergency, or you need advice on health, grooming, feeding or behaviour Vetfone™ is there to help.
As a Tesco Bank Pet Insurance customer, you can access friendly, expert advice from qualified Royal College of Veterinary Surgeons as a standard benefit with your policy, and the service is provided at no additional cost. A quick telephone call or video call could answer any questions you have about your pet, give you peace of mind and could even save you a trip to the vet.
Tesco Bank Pet Insurance is arranged, administered and underwritten by Royal & Sun Alliance Insurance Ltd. The vetfone™ service is provided by VetsDirect Ltd.
Discover more breeds
Browse our other cat and dog guides to learn about some of the UK's most popular breeds.