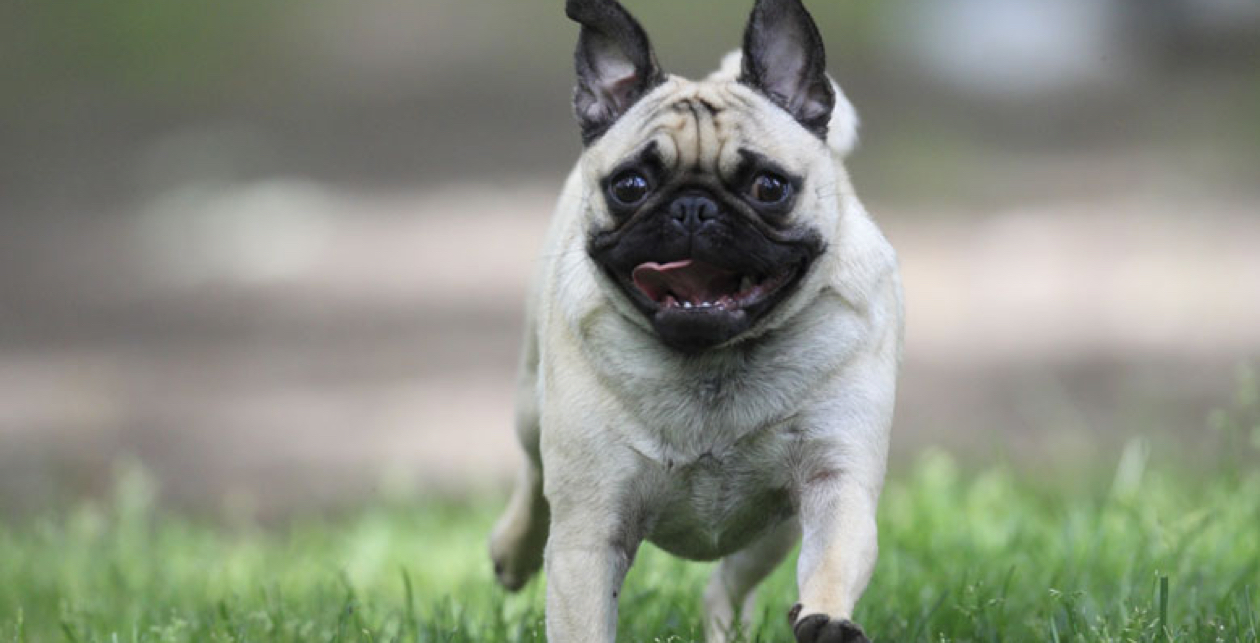 Pugs are affectionate, smart and playful, with a huge personality and like nothing more than to be the centre of attention. Find out more about this compact, outgoing dog, from his temperament and how he should be groomed, to his health and exercise needs.
Breed information & advice
The Pug is from the toy dog group and was bred to sit on laps, making him the perfect companion. His love of people makes him a great breed choice for families with or without children.
The Pug is a sociable, loving and loyal dog, and will follow his owners everywhere
He has a double coat meaning he can shed a lot, so you may want to invest in a good vacuum cleaner
Typically he will weigh between 6kg and 8kg, when fully grown
A healthy Pug will usually live for up to 10 years
Typical size of a Pug: Small: 25cm-36cm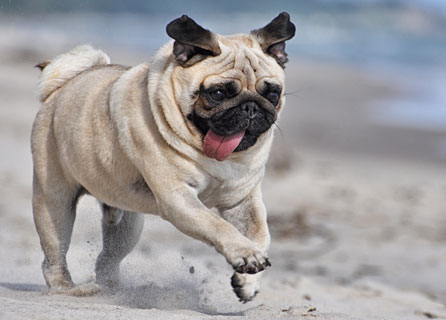 Recommended exercise & nutrition
Pugs are relatively low-maintenance when it comes to exercise, and while your dog will enjoy playing outdoors, he can be quite subdued when inside.
He will need up to one hour of exercise a day, whether walking on a lead or playing in a secure garden. Your dog can be sensitive to heat, so make sure you limit his outside time in warmer months. A Pug puppy's exercise needs to be limited to free-running and gentle play, as excessive walking and jumping can harm his joints while he is growing.
Pugs are known for their love of food, so take care not to overfeed your dog, as this breed can also be prone to obesity. You should give your Pug two high-quality meals each day, to ensure he is getting the right nutrients. The exact amount will vary depending on his age, size and how active he is. Be sure to read the recommended serving portions on the food packet.
Up to one hour of exercise per day
Pugs are loveable dogs who enjoy relaxing and playing outside. Be careful not to over-indulge your companion, and encourage him to exercise.
Common health problems & illnesses
There's no reason why your Pug shouldn't live a long and happy life. However, being aware of the ailments your dog will be more prone to, along with the associated symptoms, can help you to deal with any health issues that crop up.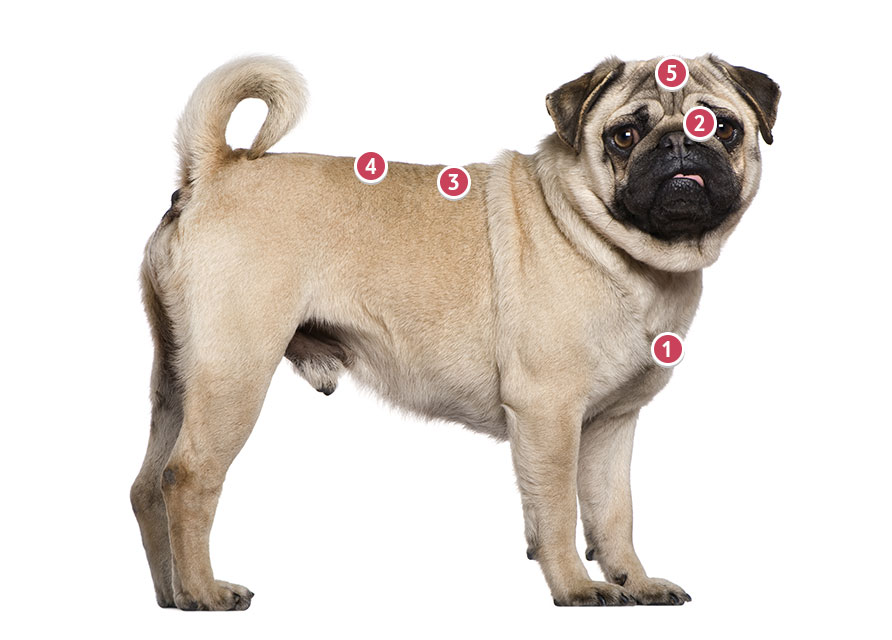 Dog name popularity
If you're struggling to think of a name for your Pug, take a look at the most popular ones at Tesco Bank Pet Insurance for inspiration.
Average treatment costs
Wondering whether pet insurance for your Pug is worth it? We've put together the top five conditions claimed for by Tesco Bank Pet Insurance customers in 2019, and the average cost of treatment.
Top five conditions and average costs
Top five conditions and average costs
Tesco Bank Pet Insurance claims data from paid treatments including excesses from 01/09/19 to 31/08/20.
Considering Pug insurance?
We know your dog is an important member of the family, so give them the protection they deserve with Tesco Bank Pet Insurance.
Tesco Bank Pet Insurance is arranged, administered and underwritten by Royal & Sun Alliance Insurance plc.
Grooming advice
Despite their short coats, Pugs moult a lot so it's important you regularly groom your dog to keep him looking his best. Frequent brushing all over will remove dead or loose hair, and you may want to give him a bath once a month. When washing, make sure to pay special attention to the folds of skin on his face, as these can become sore if not properly dried.
You should also regularly check your Pug's nose, which can become painful if dirt and debris are not removed properly. Wipe the area using a damp cotton pad or baby wipe, followed by a dry tissue.
Be sure to check his eyes as they can be vulnerable to infection or irritation. Remove debris with a moist cotton pad while being careful that no fluff is left behind. It's also important to use a different cotton pad for each eye, so any infection that may be present is not passed to the other.
Fun & interesting facts
A group of Pugs is known as a 'grumble'.
In Germany your dog would be called a Mop.
This breed is believed to be the oldest in existence.
Originally this dog was bred to sit on the laps of Chinese emperors.
Key information
The content on this page aims to offer an informative introduction to pet breeds, but does not constitute expert veterinary advice. If your dog or cat falls ill or has an injury, contact your vet immediately. Tesco Bank Pet Insurance has a partnership with vetfone™ which means that as a customer, you can benefit from their advice as part of your policy.
Tesco Bank Pet Insurance is arranged, administered and underwritten by Royal & Sun Alliance Insurance plc. The vetfone™ service is provided by VetsDirect Ltd.
All facts and figures were correct at date of publication and were compiled using a range of sources.
What is vetfone?
Vetfone™ is a 24/7 unlimited, free telephone or video call service that provides expert advice from nurses qualified with the RCVS (Royal College of Veterinary Surgeons). If your pet has a medical emergency, or you need reassurance on grooming, feeding or general advice, vetfone™ is there to help.
As a Tesco Pet Insurance customer, you can access expert veterinary advice provided by RCVS registered vet nurses as a standard benefit with your policy, and the service is provided at no additional cost. A quick telephone call or video call could answer any questions you have about your pet, give you peace of mind and could even save you a trip to the vet.
Tesco Bank Pet Insurance is arranged, administered and underwritten by Royal & Sun Alliance Insurance plc. The vetfone™ service is provided by VetsDirect Ltd.
Discover more breeds
Browse our other cat and dog guides to learn about some of the UK's most popular breeds.