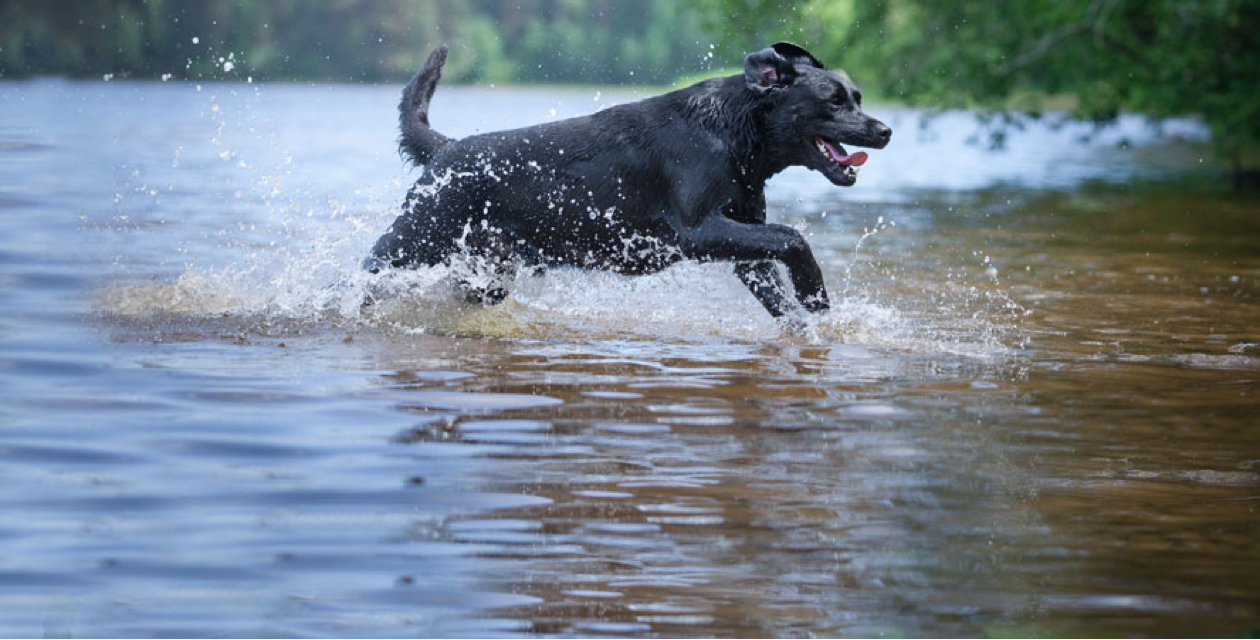 All about your Labrador Retriever
Labradors are friendly, intelligent and energetic, making fantastic family pets. Discover this kind and trusting breed, and get tips on a range of topics from exercise, grooming and behaviour, to what you can do to keep your dog healthy and happy.
Breed information & advice
One of the most popular gundogs and family pets, the Labrador makes a great companion thanks to their easy-going and gentle manner. As a dog of many talents, Labs are often also used in therapy, to guide the blind and to help the police. Here's more you should know:
The Labrador is respectful and affectionate, but also hard-working
Their two-layered coat needs brushing regularly, particularly when they're shedding
They'll typically weigh between 25kg and 36kg, when fully grown
A healthy Labrador can live between 10 and 12 years
Typical size of a Labrador: Medium: 53cm-60cm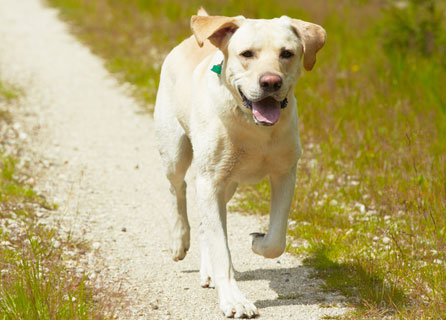 Recommended exercise & nutrition
Labradors are working dogs with a history rooted in helping the local fishermen off the Atlantic coast of Canada. Because of this, your dog will be active, needing a decent amount of exercise, and won't be happy with simply being let out in the garden. You can train a Labrador puppy as soon as you take them home, and once older, they will love you for daily walks and regular ball games to burn off energy.
As far as your dog's diet is concerned, feeding across two meals is recommended, although the quantity may vary according to the food type and their size and age. They don't necessarily need a special diet; it just needs to be of good quality, and always read the guidance on the packet.
More than two hours of exercise per day
An energetic breed, a Labrador has a strong hunting instinct and while they're happy just roaming about, swimming and playing 'fetch' are their favourite activities.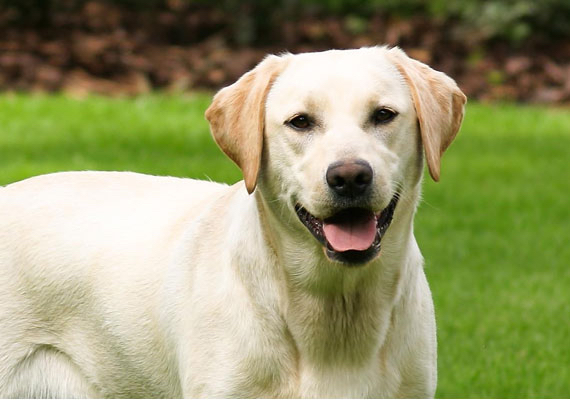 Common health problems & illnesses
Labradors need all of the usual vaccinations, flea and tick control, and dental checks to go on to lead a healthy life, but it's worth being aware of some of the more specific ailments which can affect this breed, so you can look out for any symptoms.
1. Elbow dysplasia
Elbow dysplasia is a painful condition that causes one or both elbows to develop abnormally while a puppy is growing. There are three main areas inside the elbow joint that can be affected; some dogs have just one problem area, while others suffer from a combination.
Elbow dysplasia causes pain, swelling, and instability and often leads to arthritis. Please speak to your vet if you have any concerns.
2. Gastroenteritis
Gastroenteritis involves an infection of the gut and may be caused by things like eating something inappropriate or infectious diseases. Keep a close eye on your dog – if they begin to vomit, have diarrhoea or are losing weight, your vet can help to determine the reason for this. There are various non-surgical treatments for gastroenteritis, depending on its cause.
3.Lipomas and growths
As you're grooming your Labrador, check them for lumps and growths that you haven't noticed before. Lipomas are benign fat deposits or fatty tumours. Commonly found in the chest, abdomen, legs or armpits, these lumps aren't normally painful and they don't usually pose a serious threat. However, if they're limiting your dog's movement or are irritating him, your vet will probably recommend surgery to remove them.
4. Otitis externa
Otitis externa, an inflammation of the ear canal, can be brought on by allergies or water or hair in the ears, among other things. If your pet is scratching their ears more than normal, or if you notice swelling or redness in the external parts of the ear canal, speak with your vet, who may recommend topical therapy and a deep clean of the ears.
5. Cruciate ligament injury
The cruciate ligament is found in the knee joint - there are actually two in each knee. If it's ruptured, while not life-threatening, it can be very painful, leading to lameness, swelling and arthritis of the joint. Cruciate ligament problems can be caused by a range of underlying factors, such as the shape of the bones around the joint, your dog's breed, and weight. It can also be caused by a traumatic event. There are many ways to manage affected joints so it's best to visit your vet to discuss the problem at the earliest opportunity to minimize ongoing issues.
Dog name popularity
If you're struggling to think of a name for your Labrador, take a look at the most popular ones at Tesco Bank Pet Insurance for inspiration.
Average treatment costs
Wondering whether pet insurance for your Labrador is worth it? We've put together the top five conditions claimed for by Tesco Bank Pet Insurance customers in 2021. To give you an idea of how much vet bills can vary, we've shown both the average cost and the top 10% most expensive costs for each condition.
Top five conditions and average costs
Top five conditions and average costs

| Condition | Average cost | 10% most expensive |
| --- | --- | --- |
| | | |
| Arthritis / Degenerative Joint Disease | | |
| | | |
| | | |
| | | |
Tesco Bank Pet Insurance claims data from paid treatments including excesses from 01/01/21 to 31/12/21.
Considering Labrador insurance?
We know your dog is an important member of the family, so give them the protection they deserve with Tesco Bank Pet Insurance.
Tesco Bank Pet Insurance is arranged, administered and underwritten by Royal & Sun Alliance Insurance Ltd.
Grooming advice
The time you spend grooming your dog is also valuable bonding time – it should be an enjoyable experience for both of you. As a short-haired breed, Labradors are not high-maintenance, although you'll need to brush your dog's coat regularly when they're moulting (twice a year, in spring and autumn) and switch their coat. Brushing will also keep dirt and dust out of their hair and keep them looking healthy and glossy.
Bathing isn't needed often, as Labradors' coats contain natural oils that provide waterproofing and regular bathing would strip these. Three or four times a year will suffice, unless they're particularly dirty following a long walk.
Keep an eye on your dog's nails – trimming them once or twice a month – and regularly check their ears to keep them as clean as possible and free from water build-up and infections.
Fun & interesting facts
In the 2008 film Marley and Me, starring Owen Wilson and Jennifer Aniston, a total of 22 different Labradors were used to portray Marley.
Your Labrador will make a great workout buddy. They're known for their high energy levels, so take them out on your morning run and they'll put you through your paces.
This breed holds a place in the Guinness Book of World Records – 700 Labradors went on a 5km stroll in Poland in 2010 and it was named as the largest single-breed dog walk.
The name might suggest it, but this breed doesn't actually come from Labrador. First bred in the 1700s on the Canadian island of Newfoundland, the Labrador was known as the St John's dog, after the capital city.
Labradors love being in water and are strong swimmers thanks to their webbed toes and otter-like tail, which acts like a rudder and helps to direct them.
Key information
The content on this page aims to offer an informative introduction to pet breeds, but does not constitute expert veterinary advice. If your dog or cat falls ill or has an injury, contact your vet immediately. Tesco Bank Pet Insurance has a partnership with vetfone™ which means that as a customer, you can benefit from their advice as part of your policy.
Tesco Bank Pet Insurance is arranged, administered and underwritten by Royal & Sun Alliance Insurance Ltd. The vetfone™ service is provided by VetsDirect Ltd.
All facts and figures were correct at date of publication and were compiled using a range of sources.
What is vetfone?
Vetfone™ is a 24/7 unlimited, free telephone or video call service that provides expert advice from vets or vet nurses qualified with the RCVS (Royal College of Veterinary Surgeons). If your pet has a medical emergency, or you need advice on health, grooming, feeding or behaviour Vetfone™ is there to help.
As a Tesco Bank Pet Insurance customer, you can access friendly, expert advice from qualified Royal College of Veterinary Surgeons as a standard benefit with your policy, and the service is provided at no additional cost. A quick telephone call or video call could answer any questions you have about your pet, give you peace of mind and could even save you a trip to the vet.
Tesco Bank Pet Insurance is arranged, administered and underwritten by Royal & Sun Alliance Insurance Ltd. The vetfone™ service is provided by VetsDirect Ltd.
Discover more breeds
Browse our other cat and dog guides to learn about some of the UK's most popular breeds.