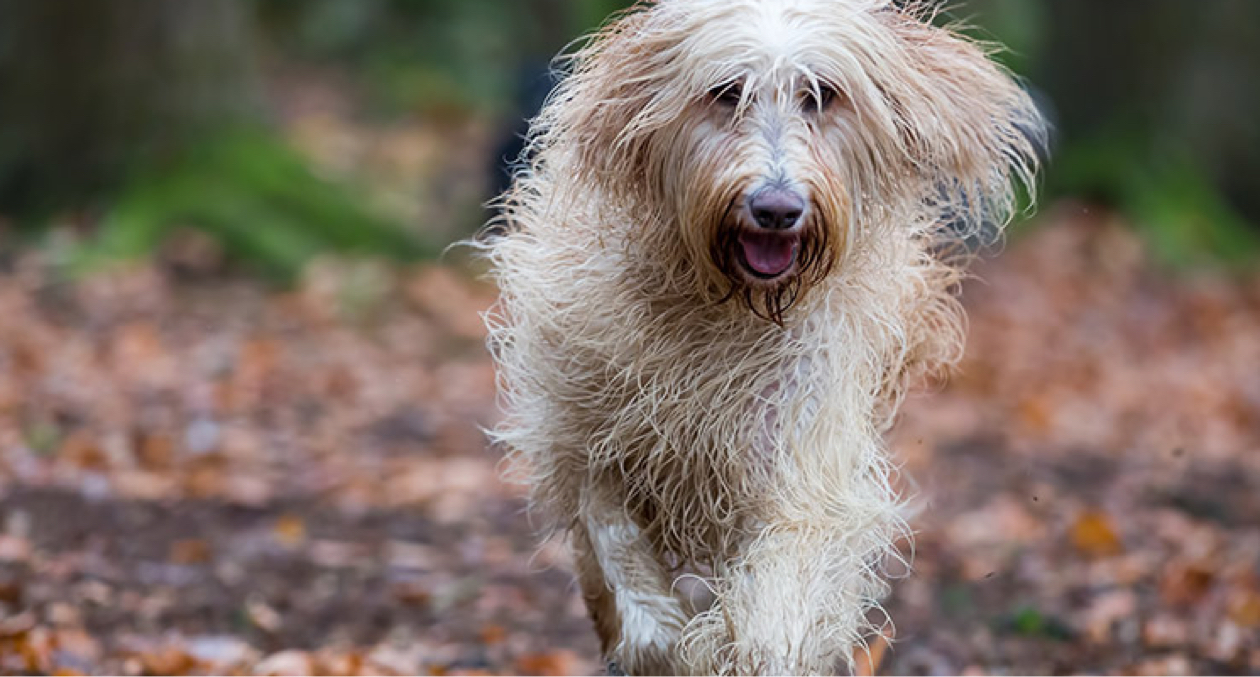 All about your Labradoodle
Labradoodles are highly intelligent dogs with bundles of energy and a loyal, affectionate nature. From grooming advice to common health conditions, our guide covers the key things you should know about this loving livewire, known for their intuition and eagerness to please.
Breed information & advice
The Labradoodle is a crossbreed, with the energy and enthusiasm of the Labrador Retriever and the devotion to work and family life of the Labrador and Poodle. Boisterous and a little bit silly, they don't make a good watchdog, but they're obedient and easy to train. Here's more you should know:
The Labradoodle comes in three different size variations: miniature, medium and standard, depending on the type of Poodle used for the first generation breeding
They are a below-average shedder, and you will only need to brush them once or twice a week
Typically a standard-size will weigh between 23kg and 29kg, when fully grown
A healthy Labradoodle will usually live between 12 and 14 years
Typical size of a Labradoodle: Medium: 53cm-61cm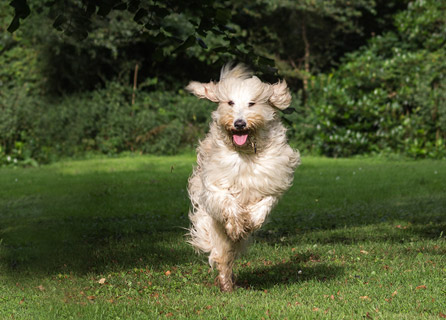 Recommended exercise & nutrition
Labradoodles are laid-back and energetic, so while they will adapt to almost any setting they will also need up to an hour of exercise each day. Excitable and smart, your dog will love to play but needs to be stimulated intellectually too, so you might want to take a ball out on your walks together for a game of fetch, so they can blow off steam.
Their friendly nature means they're great around other dogs, but as with all breeds it's a good idea to socialise them from puppyhood to get them into good habits.
Your dog needs two high-quality meals each day so they get all the nutrients they need, while this will help you monitor their weight and adjust their meals if needs be. How much you feed them will depend on their size, age, food type and exercise regime – always read the serving suggestions on the food packet.
Up to one hour of exercise per day
Labradoodles love human company, so think of their daily exercise as a great opportunity for the two of you to bond.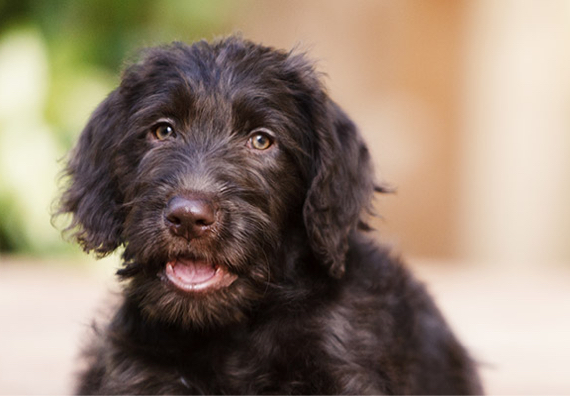 Common health problems & illnesses
There's no reason why your Labradoodle shouldn't live a long and happy life. However, being aware of the ailments your dog will be more prone to, along with the associated symptoms, can help you to deal with any health issues that crop up.
1. Allergies
Allergies are common in Labradoodles since their hair attracts all types of dirt, pollen, and dust.
Another common problem is inflammation of the ear canal, or otitis externa, because of their long, floppy ears. Your dog might try to scratch or nurse the affected area, which will be sore if they have the condition. Avoid the build-up of moisture and wax with gentle and regular cleaning, but if an infection does occur, antibiotics and other medications from your vet should clear it up.
2. Addison's disease
Labradoodles can be more prone to Addison's disease. A disorder where the body cannot regulate cortisol production and can't manage stress. In general, dogs with Addison's may experience recurrent bouts of Gastroenteritis, poor appetite, slow loss of body condition, and an inability to respond appropriately to stress. It's important to note that the symptoms of Addison's disease may wax and wane. For more information about Addison's disease in dogs, talk to your vet.
3. Hip and elbow dysplasia
Elbow dysplasia and hip dysplasia both mean that the conformation of the joint is abnormal, leading to the deterioration of the bone and loss of function of the joint. The end result will be Osteoarthritis accompanied by pain and reduced range of motion. Treatment mostly consists of management of the Osteoarthritis or joint replacement.
Dog name popularity
If you're struggling to think of a name for your Labradoodle, take a look at the most popular ones at Tesco Bank Pet Insurance for inspiration.
Average treatment costs
Wondering whether pet insurance for your Labradoodle is worth it? We've put together the top five conditions claimed for by Tesco Bank Pet Insurance customers in 2021. To give you an idea of how much vet bills can vary, we've shown both the average cost and the top 10% most expensive costs for each condition.
Top five conditions and average costs
Top five conditions and average costs

| Condition | Average cost | 10% most expensive |
| --- | --- | --- |
| | | |
| | | |
| | | |
| | | |
| Arthritis / Degenerative Joint Disease | | |
Tesco Bank Pet Insurance claims data from paid treatments including excesses from 01/01/21 to 31/12/21.
Considering Labradoodle insurance?
We know your dog is an important member of the family, so give them the protection they deserve with Tesco Bank Pet Insurance.
Tesco Bank Pet Insurance is arranged, administered and underwritten by Royal & Sun Alliance Insurance Ltd.
Grooming advice
Your dog has a single coat, which will vary due to their crossbreed heritage, so their hair can be straight or made up of loose curls. They should be brushed once or twice a week to keep their fur from matting, and you'll find that they don't shed often, making them the ideal pet for those with allergies. You may want to arrange for professional grooming of his fur every six to eight weeks to keep it manageable.
Their teeth should be brushed two or three times a week to avoid tartar and bacteria build-up, while their nails will need trimming once or twice a month if they don't wear down naturally.
Similarly to the Labrador, your Labradoodle may be at risk of ear infections commonly associated with the breed because of their lovely long ears, so take time to properly check and clean them as part of your weekly grooming. Getting them into a good routine right from being a puppy will mean they're as comfortable as you are with the grooming process.
Fun & interesting facts
The Labradoodle was developed in 1988 by an Australian breeder as a hypoallergenic guide dog for the blind.
Labradoodles come in many different colours from gold, cream and caramel to black, chocolate, blue and red.
Don't be surprised if your dog is a keen water baby – both the Poodle and the Labrador are hunting dogs bred to work in water, so they will be a natural swimmer.
A hugely popular dog, they replaced the Scottish Terrier icon in the popular board game Monopoly.
Jennifer Aniston, Jeremy Clarkson and Graham Norton are among the celebrities to have fallen for the charms of the loveable Labradoodle.
Key information
The content on this page aims to offer an informative introduction to pet breeds, but does not constitute expert veterinary advice. If your dog or cat falls ill or has an injury, contact your vet immediately. Tesco Bank Pet Insurance has a partnership with vetfone™ which means that as a customer, you can benefit from their advice as part of your policy.
Tesco Bank Pet Insurance is arranged, administered and underwritten by Royal & Sun Alliance Insurance Ltd. The vetfone™ service is provided by VetsDirect Ltd.
All facts and figures were correct at date of publication and were compiled using a range of sources.
What is vetfone?
Vetfone™ is a 24/7 unlimited, free telephone or video call service that provides expert advice from vets or vet nurses qualified with the RCVS (Royal College of Veterinary Surgeons). If your pet has a medical emergency, or you need advice on health, grooming, feeding or behaviour Vetfone™ is there to help.
As a Tesco Bank Pet Insurance customer, you can access friendly, expert advice from qualified Royal College of Veterinary Surgeons as a standard benefit with your policy, and the service is provided at no additional cost. A quick telephone call or video call could answer any questions you have about your pet, give you peace of mind and could even save you a trip to the vet.
Tesco Bank Pet Insurance is arranged, administered and underwritten by Royal & Sun Alliance Insurance Ltd. The vetfone™ service is provided by VetsDirect Ltd.
Discover more breeds
Browse our other cat and dog guides to learn about some of the UK's most popular breeds.