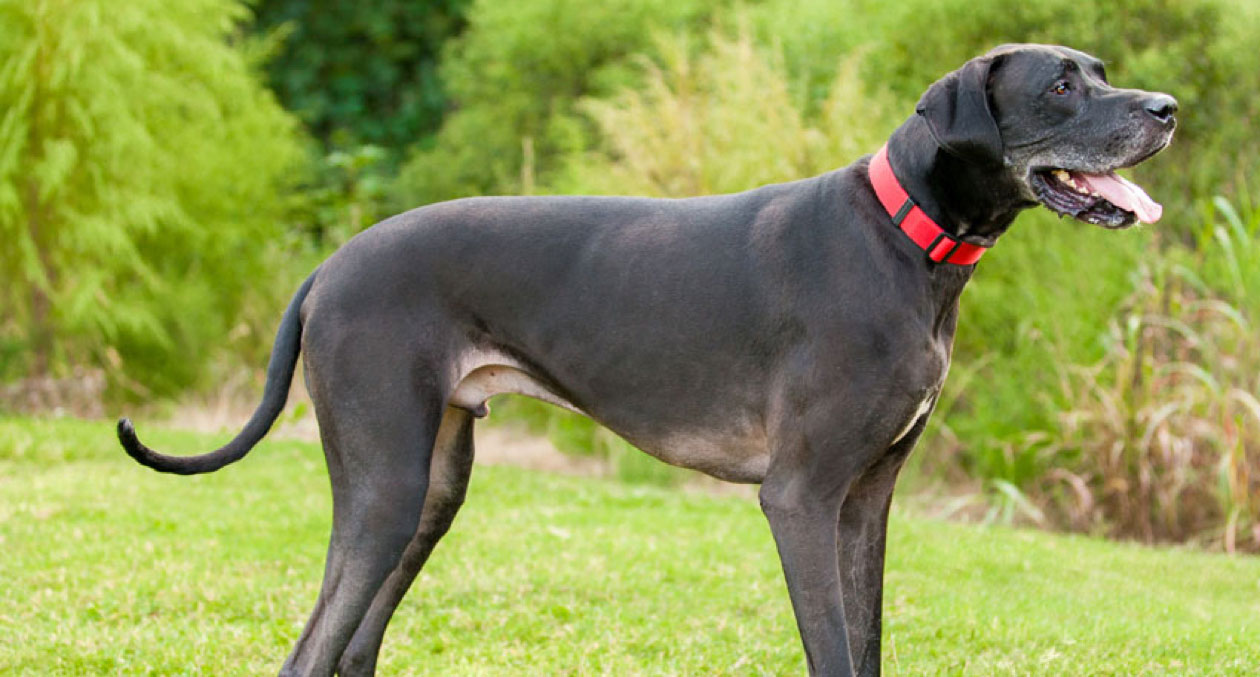 All about your Great Dane
Large, elegant and loyal dogs, Great Danes make a fantastic addition to the family. Learn more about this easy-going, gentle giant, from his grooming and exercise needs, to the things you can do to keep him happy and healthy.
Breed information & advice
Friendly and affectionate, the Great Dane is from the working breed group and has a relaxed and patient personality that makes him a wonderful family pet. As a large, powerful breed, obedience training is recommended early on to get him into good habits.
A Great Dane will need a big living space with access to a large garden, and he will require more than two hours of exercise each day once fully grown
His coat is short, thick and smooth and regular grooming is recommended to keep him in good condition
This dog typically weighs between 45kg and 90kg when fully grown
A healthy Great Dane could live between 6 and 10 years
Typical size of a Great Dane: Large - 71cm-86cm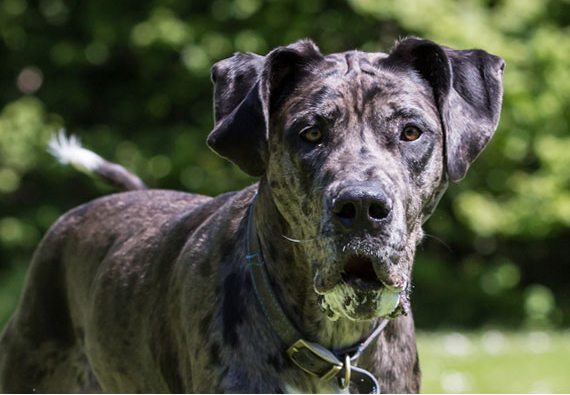 Recommended exercise & nutrition
Despite his enormous size, the Great Dane is actually much happier as an indoor family pet. He's easily house-trained and well-behaved if socialised from an early age. Older dogs will be content with one or two walks a day, but puppies tend to be more energetic.
Great Dane puppies will grow for around 18 months, during which time your pet will need special large breed puppy food to help him grow at a healthy pace and allow his bones to form properly. Puppies will need their food split over three meals, while adult dogs will need feeding twice a day. Always consider your dog's size, age and gender for appropriate measurements and read the packet instructions.
More than two hours of exercise per day
Take care to control your dog's exercise as a puppy when his bones are growing, but once fully grown this gentle, people-loving pet will need a good amount of exercise to keep him fit and healthy.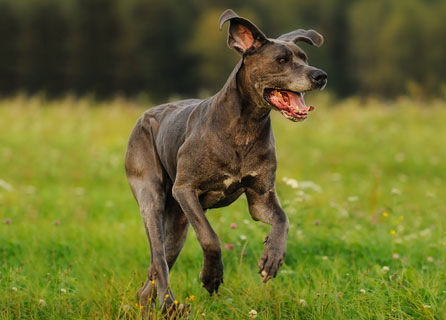 Common health problems & illnesses
Your Great Dane will need all of the usual vaccinations and check-ups to help protect him against common ailments. There are some conditions which this breed is more prone to though, and you may want to familiarise yourself with the symptoms or signs, so you know what to look out for.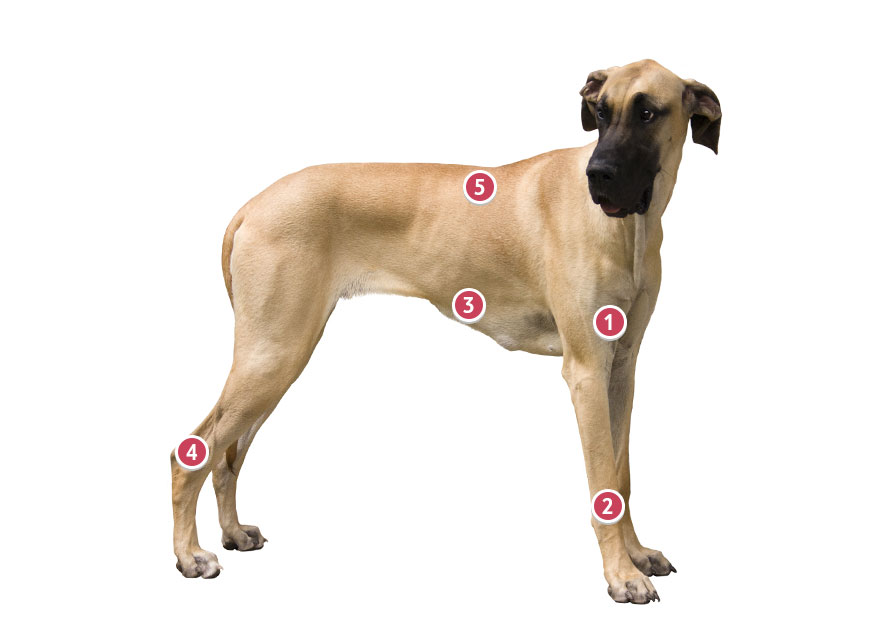 Dog name popularity
If you're struggling to think of a name for your Great Dane, take a look at the most popular ones at Tesco Bank Pet Insurance for inspiration.
Average treatment costs
Wondering whether pet insurance for your Great Dane is worth it? We've put together the top five conditions claimed for by Tesco Bank Pet Insurance customers in 2019, and the average cost of treatment.
Considering Great Dane insurance?
We know your dog is an important member of the family, so give them the protection they deserve with Tesco Bank Pet Insurance.
Tesco Bank Pet Insurance is arranged, administered and underwritten by Royal & Sun Alliance Insurance plc.
Grooming advice
A weekly grooming routine, along with a regular bath, is more than enough to keep your Great Dane looking his best. He'll enjoy the fuss and it's a fun way to bond.
This breed has a short, thick coat and doesn't shed much – however, given his size this can still mean a lot of hair on clothes and couches. Using a grooming mitt or soft-bristled brush once a week will usually be enough to keep his hair and skin in good condition. In spring and autumn he'll have a heavy shed and will need more frequent brushing to get rid of all the excess hair.
Every week check his nails, ears and teeth. Trim his nails as needed to prevent them cracking or snagging. Try to keep his ears clean and dry, and brush his teeth daily to help keep his mouth clean and healthy and to prevent dental problems. After each walk (especially in the winter), clean and dry his feet and check the pads and in between the toes for any problems.
Fun & interesting facts
Despite their name, this breed is not from Denmark. They are thought to have been bred for boar-hunting in Germany, from Irish Wolfhounds and English Mastiffs.
Although this dog continues growing for a long time, initial growth is very fast, and his weight will go from 45-90g to over 45kg in just six months.
The world's tallest dog was a Great Dane called Zeus from Michigan. He measured 1.12m to his shoulder and stood an astounding 2.24m on his hind legs.
Cartoon favourite Scooby Doo was a Great Dane. This might have been because in medieval times, the breed was said to protect homes against ghosts and evil spirits.
Great Dane Just Nuisance was a companion of sailors in South Africa during World War II, travelling alongside them. He became the only dog to ever have been enlisted in the Navy.
Key information
The content on this page aims to offer an informative introduction to pet breeds, but does not constitute expert veterinary advice. If your dog or cat falls ill or has an injury, contact your vet immediately. Tesco Bank Pet Insurance has a partnership with vetfone™ which means that as a customer, you can benefit from their advice as part of your policy.
Tesco Bank Pet Insurance is arranged, administered and underwritten by Royal & Sun Alliance Insurance plc. The vetfone™ service is provided by VetsDirect Ltd.
All facts and figures were correct at date of publication and were compiled using a range of sources.
What is vetfone?
Vetfone™ is a 24/7 unlimited, free telephone or video call service that provides expert advice from nurses qualified with the RCVS (Royal College of Veterinary Surgeons). If your pet has a medical emergency, or you need reassurance on grooming, feeding or general advice, vetfone™ is there to help.
As a Tesco Pet Insurance customer, you can access expert veterinary advice provided by RCVS registered vet nurses as a standard benefit with your policy, and the service is provided at no additional cost. A quick telephone call or video call could answer any questions you have about your pet, give you peace of mind and could even save you a trip to the vet.
Tesco Bank Pet Insurance is arranged, administered and underwritten by Royal & Sun Alliance Insurance plc. The vetfone™ service is provided by VetsDirect Ltd.
Discover more breeds
Browse our other cat and dog guides to learn about some of the UK's most popular breeds.