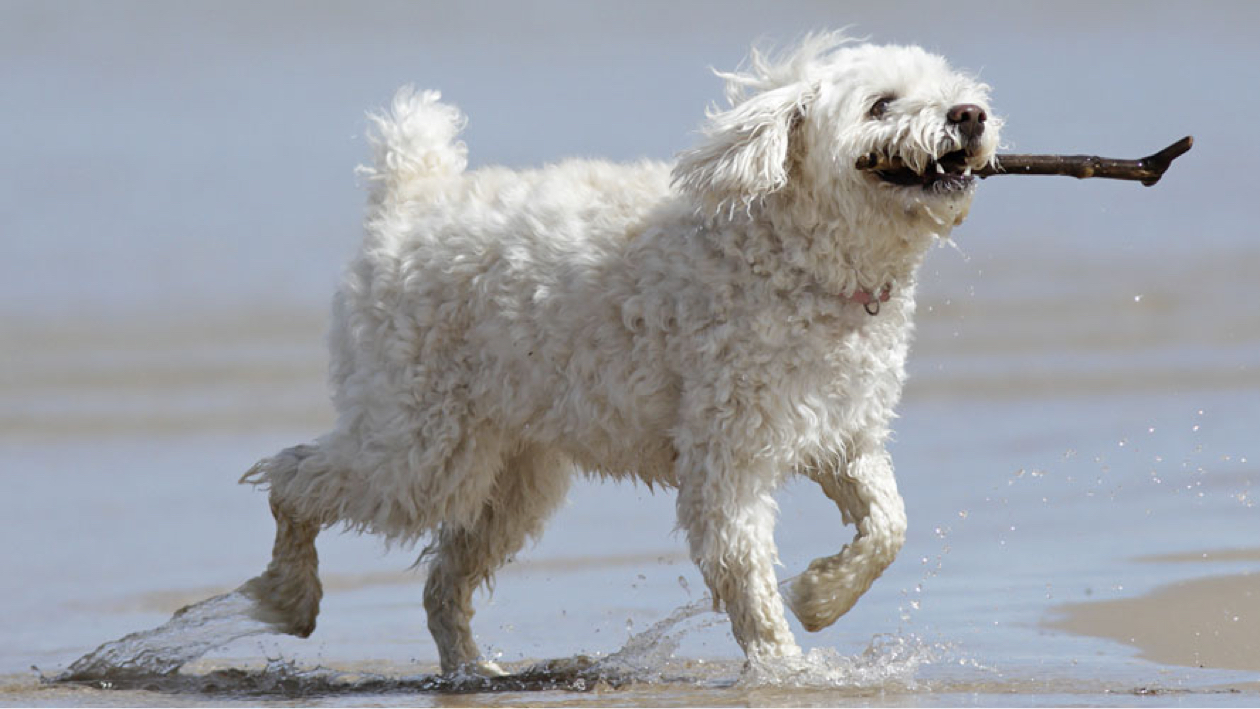 A cross between a Cocker Spaniel and a Poodle, the Cockapoo is a smart breed with a scruffy coat and a big heart. From grooming advice to common health conditions, our guide covers the key things you should know about this bright-eyed, loyal and affectionate dog, known for their quirky, outgoing personality.
Breed information & advice
Cockapoos are a crossbreed or hybrid, cheery by nature and never happier than when they're with their owners. While their ideal home would have a garden or yard, they can adapt to a smaller living space, as long as they are exercised regularly. Here's more you should know:
The Cockapoo is a companion dog with a lot of energy, and will need daily exercise and playtime
Their coat is soft, but how much of a curl they have can vary depending on the ratio of Poodle to Cocker Spaniel
Fully grown, this breed typically weighs between 5.5kg and 9kg
A healthy Cockapoo usually lives between 12 and 16 years
Typical size of a Cockapoo: Small: 25cm-38cm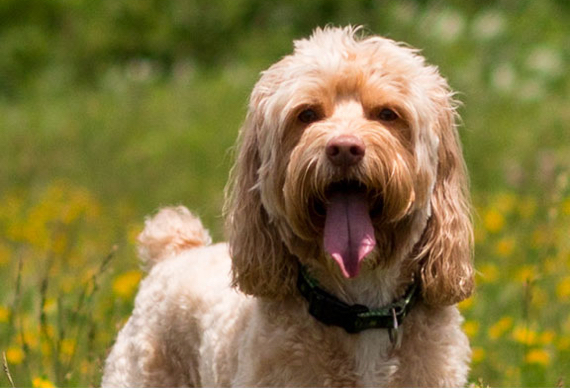 Recommended exercise & nutrition
Your Cockapoo is energetic and active, and will need at least half an hour to an hour of exercise each day, which will keep them trim and stop them from becoming bored. They are an adaptable dog and can quite happily live in a flat or a larger space – it's the companionship and communal activity that they thrive upon.
Keep your dog in good shape by measuring out their food, and providing them with two high-quality meals each day. Always read the portion guidance on the packet. The exact amount will depend on your Cockapoo's age, size and exercise regime.
Half an hour to an hour of exercise each day
Your Cockapoo likes people and may suffer from separation anxiety if left alone for too long, so spending time with them playing will stimulate their mind and ensure they're not lonely.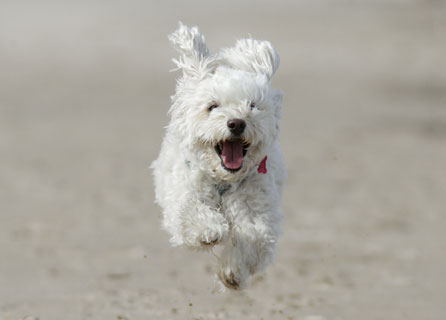 Common health problems & illnesses
There's no reason why your Cockapoo shouldn't live a long and happy life. However, being aware of the ailments your dog is more prone to, along with the associated symptoms, can help prepare you to deal with any health issues that crop up.
1. Skin conditions
Try to keep an eye out for any changes in your dog's skin, as this could be the result of injury or disease. If you notice them itching or licking a certain area, check whether it's red and inflamed, and ask your vet to investigate the cause. Dermatitis and eczema are fairly common in Cockapoos, but they may also be prone to flea and mite irritation or ringworm, while some skin conditions can even be the result of stress or boredom.
2. Cystitis
Cystitis is a type of bladder infection that affects Cockapoos and can lead to kidney pain and other problems. You might notice that your dog needs to go to the toilet more than usual, or seems to be in pain when trying to urinate. A vet can run tests to confirm canine cystitis, which can usually be cured with a simple dose of antibiotics.
3. Otitis Externa
Their long ears, inherited from the Cocker Spaniel part of this crossbreed, can trap moisture, dirt and debris as unassuming as grass seed. If left undetected, this could lead to an infection. Otitis externa – or inflammation of the ear canal – is the most common outcome. You can keep your dog in top health by making sure you thoroughly clean their ears as part of their weekly grooming routine.
4. Allergies
Cockapoos are prone to allergies whether from something they eat, inhale or come into contact with. Symptoms will vary, depending on the irritant, from itching and sneezing to diarrhoea and vomiting. Depending on what appears to be the cause, your vet will advise on the correct treatment, such as a diet restriction, medication or environmental change.
5. Dislocated kneecap
A common injury affecting this breed is a dislocated kneecap, also known as a luxating patella. This is a condition that they will have been born with, and signs to look out for include occasional skipping or hind-leg lameness. Simple surgery is usually the best way to treat this condition, but your vet can advise on the best course of action.
Dog name popularity
If you're struggling to think of a name for your Cockapoo, take a look at the most popular ones at Tesco Bank Pet Insurance for inspiration.
Average treatment costs
Wondering whether pet insurance for your Cockapoo is worth it? We've put together the top five conditions claimed for by Tesco Bank Pet Insurance customers in 2021. To give you an idea of how much vet bills can vary, we've shown both the average cost and the top 10% most expensive costs for each condition.
Top five conditions and average costs
Top five conditions and average costs

Condition

Average
cost

10% most expensive
Tesco Bank Pet Insurance claims data from paid treatments including excesses from 1 January 2021 to 31 December 2021.
Considering Cockapoo insurance?
We know your dog is an important member of the family, so give them the protection they deserve with Tesco Bank Pet Insurance.
Tesco Bank Pet Insurance is arranged, administered and underwritten by Royal & Sun Alliance Insurance Ltd.
Grooming advice
Depending on the ratio of Poodle to Cocker Spaniel in this mixed breed, the Cockapoo's coat can comprise of tight or loose curls. Either way, when they're a puppy they will need brushing at least four times a week, if not daily, to make sure that their fur doesn't become matted. Adult coats will moult and matt, and while a dog with a straight coat will need brushing two to three times a week, one with a curlier coat is likely to require professional grooming every four to six weeks, to stay free of skin complaints.
At least once a week, pay particular attention to your Cockapoo's ears. Ensure they're clean and clear of moisture, dirt or wax build-up and this will lessen the chance of your dog catching an infection.
Their nails should be trimmed once or twice a month. Like other small breeds, you should brush your Cockapoo's teeth regularly to avoid teeth and gum problems.
Fun & interesting facts
The Cockapoo is said to be the first hybrid or designer dog breed, developed in America in the 1950s.
Also known as a Cock-a-poo, Cockerpoo or Cockerpoodle, this dog is smart and easy to train, a trait they've picked up from their spaniel heritage.
Your Cockapoo's size, colour and coat depend on the genes they've inherited.
Cockapoos were thought to be hypoallergenic, but all dogs produce dander (dead skin cells), which can still bring on allergic reactions.
Cockapoos make great assistance dogs because of their love for people, and are commonly used for therapy and disabled assistance.
Key information
The content on this page aims to offer an informative introduction to pet breeds, but does not constitute expert veterinary advice. If your dog or cat falls ill or has an injury, contact your vet immediately. Tesco Bank Pet Insurance has a partnership with vetfone™ which means that as a customer, you can benefit from their advice as part of your policy.
Tesco Bank Pet Insurance is arranged, administered and underwritten by Royal & Sun Alliance Insurance Ltd. The vetfone™ service is provided by VetsDirect Ltd.
All facts and figures were correct at date of publication and were compiled using a range of sources.
What is vetfone?
Vetfone™ is a 24/7 unlimited, free telephone or video call service that provides expert advice from vets or vet nurses qualified with the RCVS (Royal College of Veterinary Surgeons). If your pet has a medical emergency, or you need need advice on health, grooming, feeding or behaviour vetfone™ is there to help.
As a Tesco Bank Pet Insurance customer, you can access friendly, expert advice from qualified Royal College of Veterinary Surgeons as a standard benefit with your policy, and the service is provided at no additional cost. A quick telephone call or video call could answer any questions you have about your pet, give you peace of mind and could even save you a trip to the vet.
Tesco Bank Pet Insurance is arranged, administered and underwritten by Royal & Sun Alliance Insurance Ltd. The vetfone™ service is provided by VetsDirect Ltd.
Discover more breeds
Browse our other cat and dog guides to learn about some of the UK's most popular breeds.