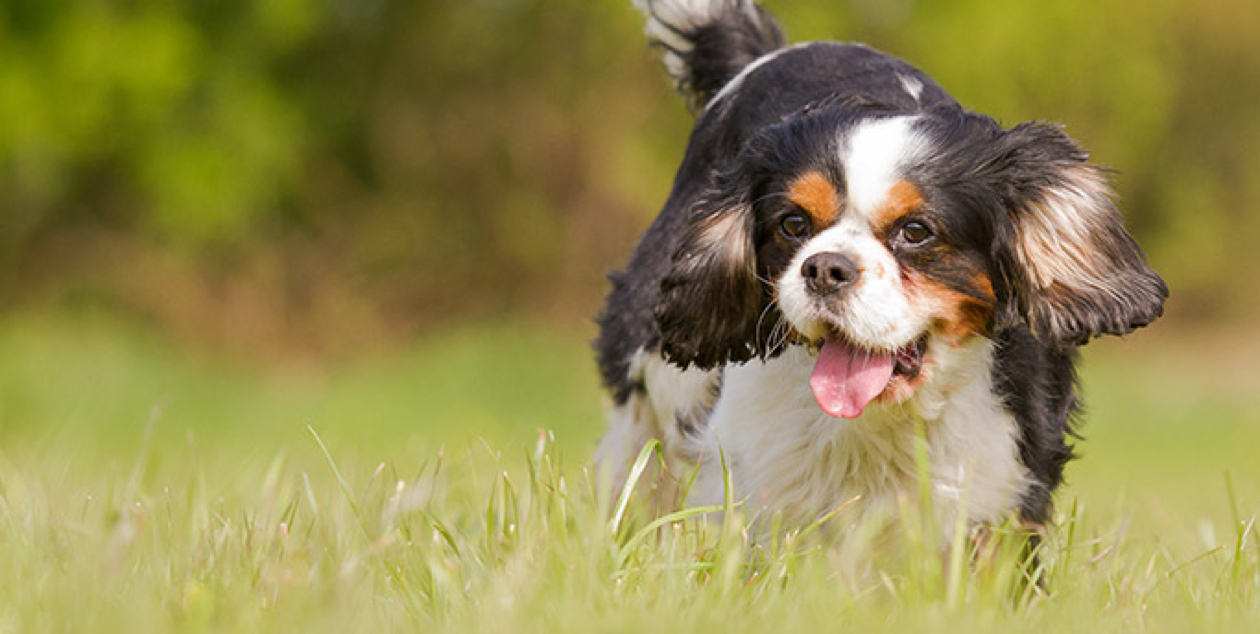 All about your Cavalier King Charles Spaniel
Playful, friendly and fearless, the Cavalier King Charles Spaniel has a lot of love to give and is a joy to have around the home. From grooming advice to common health conditions, our guide covers the key things you should know about these affectionate and happy dogs, known for their adorable expressions.
Breed information & advice
The Cavalier King Charles Spaniel is part of the toy breed group, with charming brown eyes and a constantly wagging tail. Much loved by the aristocracy in the 17th century, this regal dog is gentle, mild-mannered and very eager to please. Here's more you should know:
The Cavalier King Charles Spaniel adore their family and follows them everywhere, so you'll hardly get a minute alone
They have a medium-length coat that needs regular grooming and they're an average shedder
They'll typically weigh 5kg to 8kg, when fully grown
A healthy Cavalier King Charles Spaniel can live for 9 to 15 years
Typical size of a Cavalier King Charles Spaniel: Small: 30cm-33cm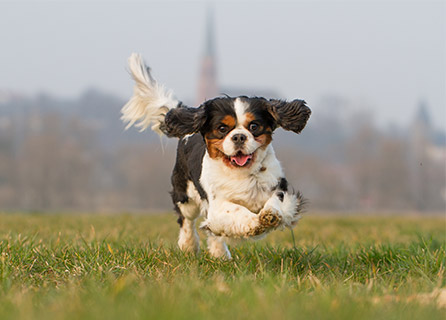 Recommended exercise & nutrition
While the Cavalier King Charles Spaniel is considered a toy breed because of their small size, they have a big personality and love nothing more than playing with you.
A couple of quick walks every day will make for a happy dog. Because they're short-nosed and cannot breathe as efficiently as other breeds, take care in warm weather. When short-nosed dogs overheat, they don't sweat the same way humans do, but instead, pant to lose the heat through the mouth and tongue. So don't leave your dog without shade or cool water.
Feed your Cavalier King Charles Spaniel two meals of high-quality dry food each day - the quantity will depend on the size, age and activity levels of your dog and always check the label on the food packet for portion sizes.
One hour of exercise per day
Cavalier King Charles Spaniels tend to be naturally well-behaved and get on well with other dogs, but training them as a puppy will help to socialise them.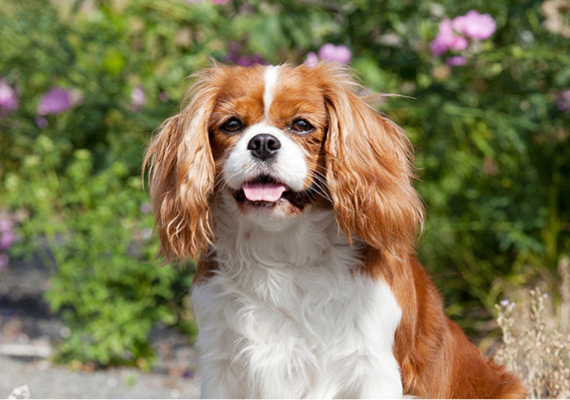 Common health problems & illnesses
There's no reason why your Cavalier King Charles Spaniel shouldn't live a long and happy life. However, being aware of the ailments your dog is more prone to, along with the associated symptoms, can help you to deal with any health issues that crop up.
1. Mitral valve disease
Mitral valve disease is a disease of the heart, caused by the deterioration of one of its valves. It is a very common disease in Cavalier King Charles spaniels. Because of the damage to the valve, with each heart beat some blood is forced backwards from one chamber into another rather than out of the heart. This causes heart failure. Speak to your vet for advice on this condition and any testing that can be done.
2. Chiari-like malformation and syringomyelia
Chiari-like malformation and syringomyelia are complex conditions that affect the brain and spinal cord in dogs. They've inherited abnormalities that are common in brachycephalic breeds. Syringomyelia is the term that describes fluid-filled cavities that develop within the spinal cord causing an abnormal sensations in affected dogs.
The underlying issue is called chiari-like malformation (CLM). CLM describes a mismatch between the size of the brain, which is too big, and the space within the skull, which is too small. This leads to crowding of the back part of the brain and the brainstem, and subsequent obstruction of the flow of the cerebrospinal fluid that bathes the brain and spinal cord. The most common sign is altered sensation typically at the back of the head and the neck which may progress to pain. As these conditions are common in the Cavalier King Charles Spaniel, please speak to your vet if you have any concerns.
3. Dry eye
Dry eye syndrome is when the immune system attacks the tear glands, causing the eyes to become red and inflamed, and can damage the cornea resulting in conjunctivitis, or infection. If your dog seems to be blinking a lot or you notice discharge or swollen blood vessels in his eyes, take them along to your vet for an examination to determine the cause and treatment.
4. Dental disease
Dogs can get many of the same or similar oral diseases as are seen in people. However, whereas the most common dental disease in people is tooth decay or cavities, in dogs it's periodontal disease. Dogs with dental problems commonly show symptoms such as bad breath, excessive drooling, loss of appetite, and more.
As dog parents, we need to take good care of our dog's teeth through regular brushing. We should also check our dog's mouth regularly for early signs of dental problems. If you have any concerns, speak to your vet.
5. Episodic falling
Episodic Falling is a genetic neurological disorder found in Cavalier King Charles Spaniels. Episodes are usually triggered by exercise, stress or excitement and are characterised by increased muscle tone and stiffness throughout the thoracic and pelvic limbs resulting in a characteristic 'deer-stalking' position and or collapse. During events, the dogs are conscious and aware. Although symptoms almost always arise by five months of age, there is no pattern of progression and episodes can be less or more severe over time.
Episodic falling is often misdiagnosed as epilepsy as it's relatively unknown, but drugs are available to treat the condition that are not used in epilepsy, so the correct diagnosis from your vet is critical.
Dog name popularity
If you're struggling to think of a name for your Cavalier King Charles Spaniel, take a look at the most popular ones at Tesco Bank Pet Insurance for inspiration.
Average treatment costs
Wondering whether pet insurance for your Cavalier King Charles Spaniel is worth it? We've put together the top five conditions claimed for by Tesco Bank Pet Insurance customers in 2021. To give you an idea of how much vet bills can vary, we've shown both the average cost and the top 10% most expensive costs for each condition.
Top five conditions and average costs
Top five conditions and average costs

| Condition | Average cost | 10% most expensive |
| --- | --- | --- |
| | | |
| | | |
| | | |
| Arthritis / Degenerative Joint Disease | | |
| | | |
Tesco Bank Pet Insurance claims data from paid treatments including excesses from 01/01/21 to 31/12/21.
Considering Cavalier King Charles Spaniel insurance?
We know your dog is an important member of the family, so give them the protection they deserve with Tesco Bank Pet Insurance.
Tesco Bank Pet Insurance is arranged, administered and underwritten by Royal & Sun Alliance Insurance Ltd.
Grooming advice
The Cavalier King Charles Spaniel has a medium-length coat, which should be brushed three or four times a week to keep it looking glossy and healthy. They're average shedders, so won't require too much trimming.
The main thing you'll need to look out for when grooming your dog is the feathered hair on their ears and legs becoming matted and tangled, but you can help to prevent this with gentle combing.
Brush your dog's teeth ideally on a daily basis, trim their nails a couple of times each month, and try to get them used to the grooming process right from when they're a puppy so that it isn't something they fear. If you do that, it can become something you both enjoy.
Fun & interesting facts
Because of their affectionate and cuddly nature, the Cavalier King Charles Spaniel is nicknamed the 'comforter Spaniel'.
The breed's history goes back to the King Charles Spaniel and is associated with King Charles II, who instituted a law that stated they weren't to be barred from any public place.
The breed is featured in various period dramas including The Tudors, Girl with a Pearl Earring and Dickensian due to their historical significance.
During their time at the White House, Ronald Reagan had Rex, his beloved Cavalier King Charles Spaniel, at his side.
Actress Courteney Cox and singer Frank Sinatra have each also owned a Cavalier King Charles Spaniel.
Key information
The content on this page aims to offer an informative introduction to pet breeds, but does not constitute expert veterinary advice. If your dog or cat falls ill or has an injury, contact your vet immediately. Tesco Bank Pet Insurance has a partnership with vetfone™ which means that as a customer, you can benefit from their advice as part of your policy.
Tesco Bank Pet Insurance is arranged, administered and underwritten by Royal & Sun Alliance Insurance Ltd. The vetfone™ service is provided by VetsDirect Ltd.
All facts and figures were correct at date of publication and were compiled using a range of sources.
What is vetfone?
Vetfone™ is a 24/7 unlimited, free telephone or video call service that provides expert advice from vets or vet nurses qualified with the RCVS (Royal College of Veterinary Surgeons). If your pet has a medical emergency, or you need advice on health, grooming, feeding or behaviour Vetfone™ is there to help.
As a Tesco Bank Pet Insurance customer, you can access friendly, expert advice from qualified Royal College of Veterinary Surgeons as a standard benefit with your policy, and the service is provided at no additional cost. A quick telephone call or video call could answer any questions you have about your pet, give you peace of mind and could even save you a trip to the vet.
Tesco Bank Pet Insurance is arranged, administered and underwritten by Royal & Sun Alliance Insurance Ltd. The vetfone™ service is provided by VetsDirect Ltd.
Discover more breeds
Browse our other cat and dog guides to learn about some of the UK's most popular breeds.