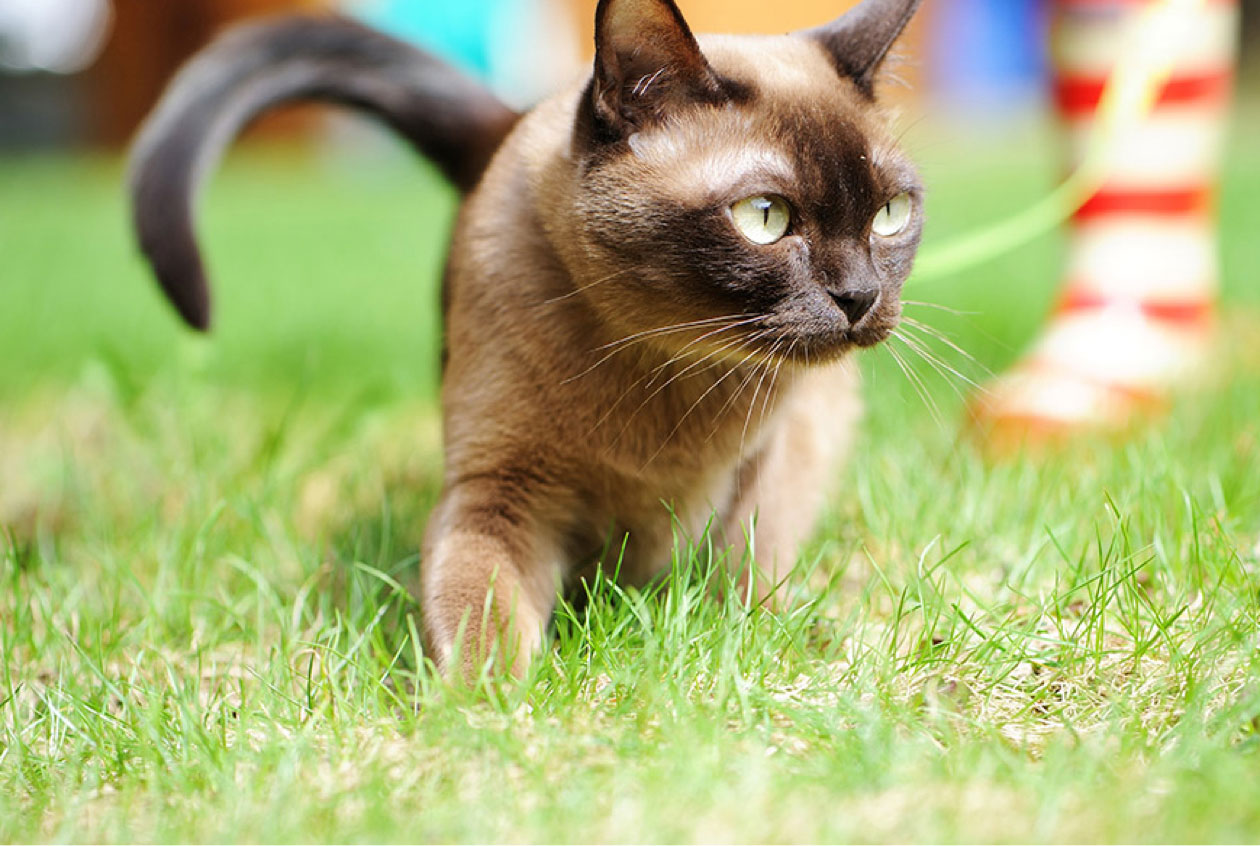 All about your Burmese Cat
Intelligent, lively and friendly, Burmese cats love human company and make fantastic family pets. Discover this curious and mischievous breed, and get tips on a range of topics from exercise, grooming and behaviour, to what you can do to keep your cat healthy and happy.
Breed information & advice
The Burmese has a playful and inquisitive personality, and will want to be involved in everything you do. He is outgoing and sociable so will get on well with other pets, and is even a little unconventional at times – his favourite game is fetch.
The Burmese actively seeks out attention, so he'll be happiest in a home where he'll have company most of the day
He loves to play and do tricks, and can be taught to wave, sit and roll over
Typically he will weigh between 3kg and 7kg, when fully grown
A healthy Burmese cat will usually live for 16 to 18 years
Typical size of a Burmese: Medium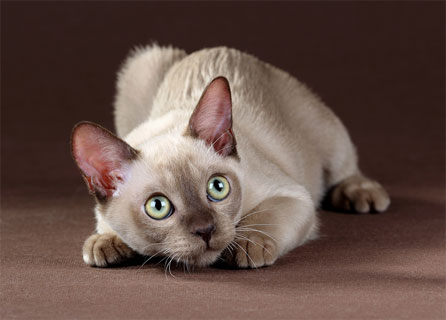 Recommended exercise & nutrition
The Burmese is happiest in a home where he has plenty of toys, people or other animals to play with throughout the day. This breed also has a mischievous side and is keen to play with any item he comes across, so it's a good idea to dedicate a portion of time each day to keep your cat entertained.
Some owners opt to keep their cat indoors to prevent accidents, infection or theft, provided he has lots of space to explore.
Feed your Burmese high-quality cat food and remember to bear in mind his age and size, and always read the instructions on the packet. Try to provide a bit of variety in his meals so that he doesn't become a fussy eater and take care not to overfeed him, as it could lead to health problems later on.
Play and attention
A spirited cat who loves to play and be the centre of attention, the Burmese also enjoys climbing and jumping, so try to provide perches and cat trees around your home for him to explore.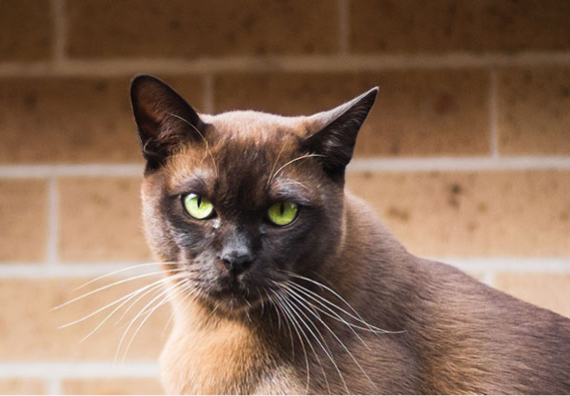 Common health problems & illnesses
Your Burmese will need all of the usual vaccinations and check-ups to help protect him against common ailments. There are some conditions that this breed is more prone to though, and you may want to familiarise yourself with the symptoms, so you know what to look out for.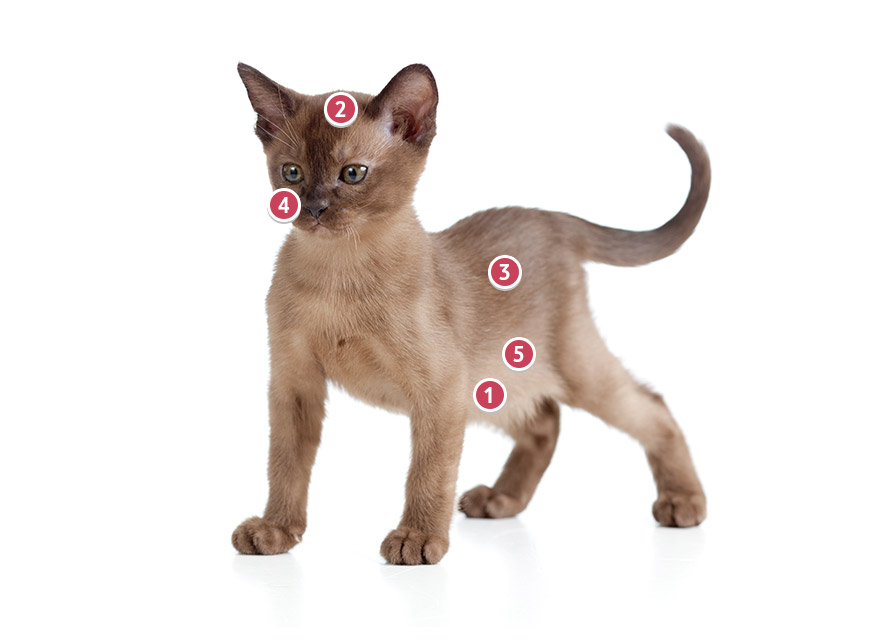 Cat name popularity
If you're struggling to think of a name for your new Burmese, take a look at the most popular ones at Tesco Bank Pet Insurance for inspiration.
Average treatment costs
Wondering whether pet insurance for your Burmese is worth it? We've put together the top five conditions claimed for by Tesco Bank Pet Insurance customers in 2019, and the average cost of treatment.
Considering Burmese insurance?
We know your cat is an important member of the family, so give them the protection they deserve with Tesco Bank Pet Insurance.
Tesco Bank Pet Insurance is arranged, administered and underwritten by Royal & Sun Alliance Insurance plc.
Grooming advice
A Burmese cat is relatively low maintenance from a grooming perspective, and he'll only require a weekly brush to remove dander and dead hair.
His short, satin coat will rarely need washing, but it's important to regularly check his eyes and ears are kept clean. Carefully wiping the corners of his eyes with a damp cloth or cotton ball will help prevent the build-up of dirt, and doing the same with his ears can help reduce the risk of ear infections. Brush his teeth regularly too – weekly, if not daily – to help prevent dental problems and keep his breath fresh. Try to start your care routine when he's just a kitten to help him get used to it.
Fun & interesting facts
In South East Asia his early ancestors were treated as sacred, and kept in temples and monasteries with their own human servants.
The breed was introduced to Burma in the 18th century, following the invasion of Thailand by the Burmese army.
The Burmese is almost dog-like in his behaviour, and can be taught to fetch items just like a retriever.
He loves interacting with humans and will be quite vocal when he wants some fuss.
Do not be fooled by his sleekness and grace as he is surprisingly heavy, muscular and has been called 'a brick wrapped in silk'.
Key information
The content on this page aims to offer an informative introduction to pet breeds, but does not constitute expert veterinary advice. If your dog or cat falls ill or has an injury, contact your vet immediately. Tesco Bank Pet Insurance has a partnership with vetfone™ which means that as a customer, you can benefit from their advice as part of your policy.
Tesco Bank Pet Insurance is arranged, administered and underwritten by Royal & Sun Alliance Insurance plc. The vetfone™ service is provided by VetsDirect Ltd.
All facts and figures were correct at date of publication and were compiled using a range of sources.
What is vetfone?
Vetfone™ is a 24/7 unlimited, free telephone or video call service that provides expert advice from nurses qualified with the RCVS (Royal College of Veterinary Surgeons). If your pet has a medical emergency, or you need reassurance on grooming, feeding or general advice, vetfone™ is there to help.
As a Tesco Pet Insurance customer, you can access expert veterinary advice provided by RCVS registered vet nurses as a standard benefit with your policy, and the service is provided at no additional cost. A quick telephone call or video call could answer any questions you have about your pet, give you peace of mind and could even save you a trip to the vet.
Tesco Bank Pet Insurance is arranged, administered and underwritten by Royal & Sun Alliance Insurance plc. The vetfone™ service is provided by VetsDirect Ltd.
Discover more breeds
Browse our other cat and dog guides to learn about some of the UK's most popular breeds.