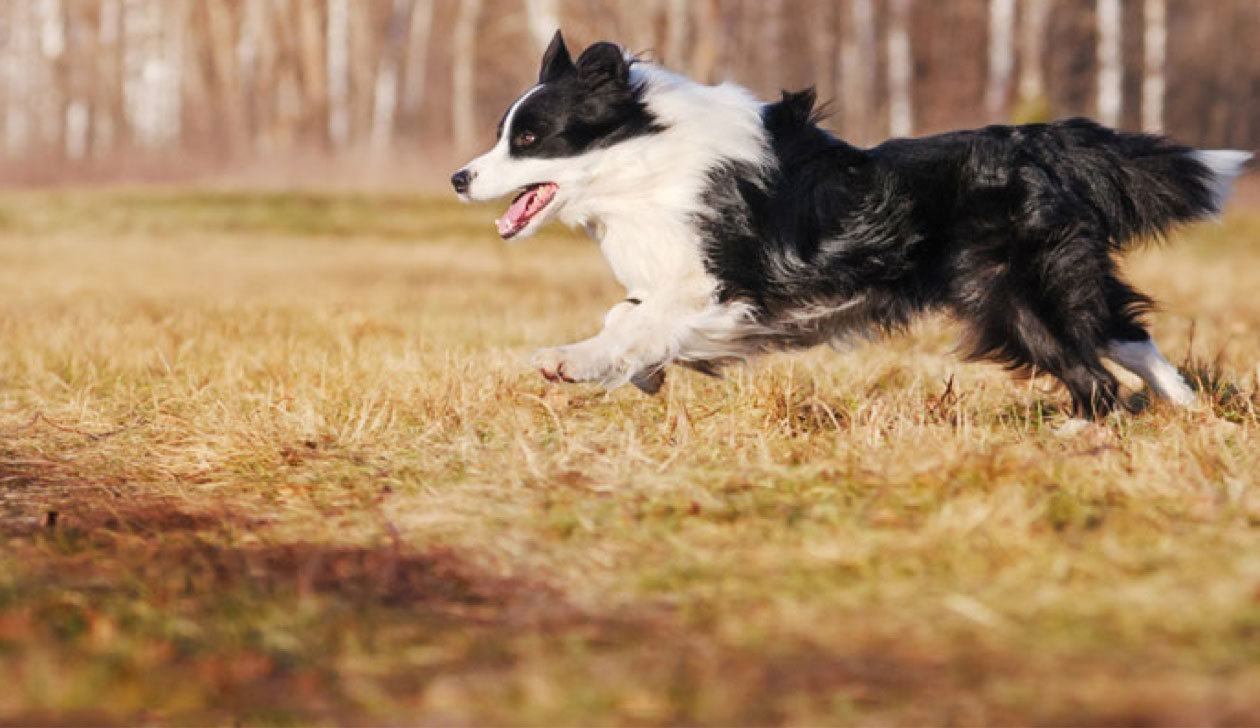 All about your Border Collie
Smart, loyal and agile, with bags of energy.
Intelligent and enthusiastic, Border Collies are hard-working and well-suited to the outdoors and active families. Discover this lively, athletic dog, and get tips on a range of topics from exercise, grooming and behaviour, to what you can do to keep your dog healthy and happy.
Breed information & advice
As part of the pastoral dog group, Border Collies are known for their loyal, sensitive and determined personality. Though each dog's coat will vary, classic markings for this breed include a black body with a blaze of white across their face and chest and white socks. Here's more you should know:
The Border Collie is a highly affectionate breed of dog and very easy to train
Their coat requires minimal upkeep – they should be bathed once every four months
They'll typically weigh between 12kg and 20kg, when fully grown
If healthy they can live between 12 and 15 years
Typical size of a Border Collie: Medium: 46cm-56cm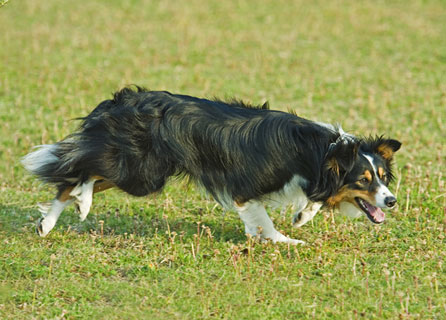 Recommended exercise & nutrition
Because Border Collies were originally bred to herd sheep and cattle on farms and in hilly conditions, they require plenty of exercise in open spaces. Your dog will be highly intelligent, so it's a good idea to keep them mentally active too.
Feed your dog twice a day, but the quantity will vary depending on their weight, age and size (and will differ during puppy years). Always read the label to make sure you're feeding your dog the right amount and just be aware that red meat can make some dogs very hyperactive.
Two hours of exercise a day
It is important to give your Border Collie at least two hours of exercise per day, so they can burn off all the energy they've stored up, and keep their mind active too.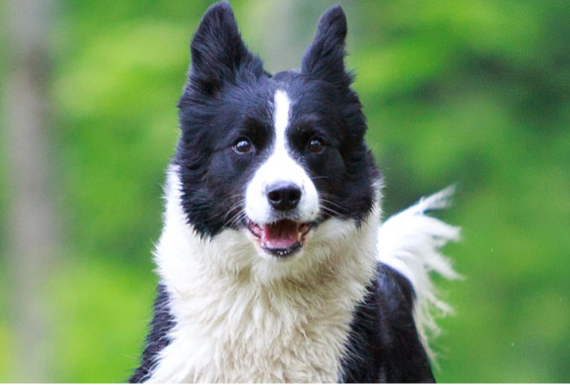 Common health problems & illnesses
Border Collies need all of the usual vaccinations, flea and tick control, and dental checks to go on to lead a healthy life, but it's worth being aware of some of the more specific ailments which can affect this breed, so you can look out for any symptoms.
Dog name popularity
If you're struggling to think of a name for your new Border Collie, take a look at the most popular ones at Tesco Bank Pet Insurance for inspiration.
Average treatment costs
Wondering whether pet insurance for your Border Collie is worth it? We've put together the top five conditions and problems claimed by Tesco Bank Pet Insurance customers in 2021. To give you an idea of how much vet bills can vary, we've shown both the average cost and the top 10% most expensive costs for each condition.
Top five conditions and average costs
Top five conditions and average costs

| Condition | Average cost | 10% most expensive |
| --- | --- | --- |
| | | |
| Arthritis / Degenerative Joint Disease | | |
| Epilepsy / fitting / seizure | | |
| | | |
| | | |
Tesco Bank Pet Insurance claims data from paid treatments including excesses from 01/01/21 to 31/12/21.
Considering Border Collie insurance?
We know your dog is an important member of the family, so give them the protection they deserve with Tesco Bank Pet Insurance.
Tesco Bank Pet Insurance is arranged, administered and underwritten by Royal & Sun Alliance Insurance Ltd.
Grooming advice
Your Border Collie won't need a huge amount of grooming and will only need a bath every four months or so – unless their coat gets dirty from playing or walking outside.
Keep their coat in good condition by brushing them on a weekly basis, to keep the natural oils spread across their fur and to get rid of any knots or kinks. They'll shed their coat usually during Autumn and Spring, so you'll need to give them some extra brushing during these periods.
Clean your dog's teeth two to three times a week to keep their teeth and gums fresh, removing any build-up of bacteria. There are various specialist toothbrushes and pastes available to help you stay on top of your pet's oral health.
Keep their nails in good condition by trimming them back once every month. Cleaning their ears is vitally important too – with a dampened cotton ball, wipe in and around their ears to help remove dirt and to prevent any infections.
Fun & interesting facts
The breed played a major role in the 1995 film Babe, as Fly and Rex act as sheepdogs teaching a piglet how to herd livestock.
A Border Collie holds the world record for being the fastest dog to open a car window – in 11.34 seconds.
Research has found that Border Collies can recognise up to 250 different items.
Border Collies are often employed by the police and airport customs due to their strong sense of smell.
They have been rated as the smartest breed of dog.
Key information
The content on this page aims to offer an informative introduction to pet breeds, but does not constitute expert veterinary advice. If your dog or cat falls ill or has an injury, contact your vet immediately. Tesco Bank Pet Insurance has a partnership with vetfone™ which means that as a customer, you can benefit from their advice as part of your policy.
Tesco Bank Pet Insurance is arranged, administered and underwritten by Royal & Sun Alliance Insurance Ltd. The vetfone™ service is provided by VetsDirect Ltd.
All facts and figures were correct at date of publication and were compiled using a range of sources.
What is vetfone?
Vetfone™ is a 24/7 unlimited, free telephone or video call service that provides expert advice from vets or vet nurses qualified with the RCVS (Royal College of Veterinary Surgeons). If your pet has a medical emergency, or you need advice on health, grooming, feeding or behaviour Vetfone™ is there to help.
As a Tesco Bank Pet Insurance customer, you can access friendly, expert advice from qualified Royal College of Veterinary Surgeons as a standard benefit with your policy, and the service is provided at no additional cost. A quick telephone call or video call could answer any questions you have about your pet, give you peace of mind and could even save you a trip to the vet.
Tesco Bank Pet Insurance is arranged, administered and underwritten by Royal & Sun Alliance Insurance Ltd. The vetfone™ service is provided by VetsDirect Ltd.
Discover more breeds
Browse our other cat and dog guides to learn about some of the UK's most popular breeds.