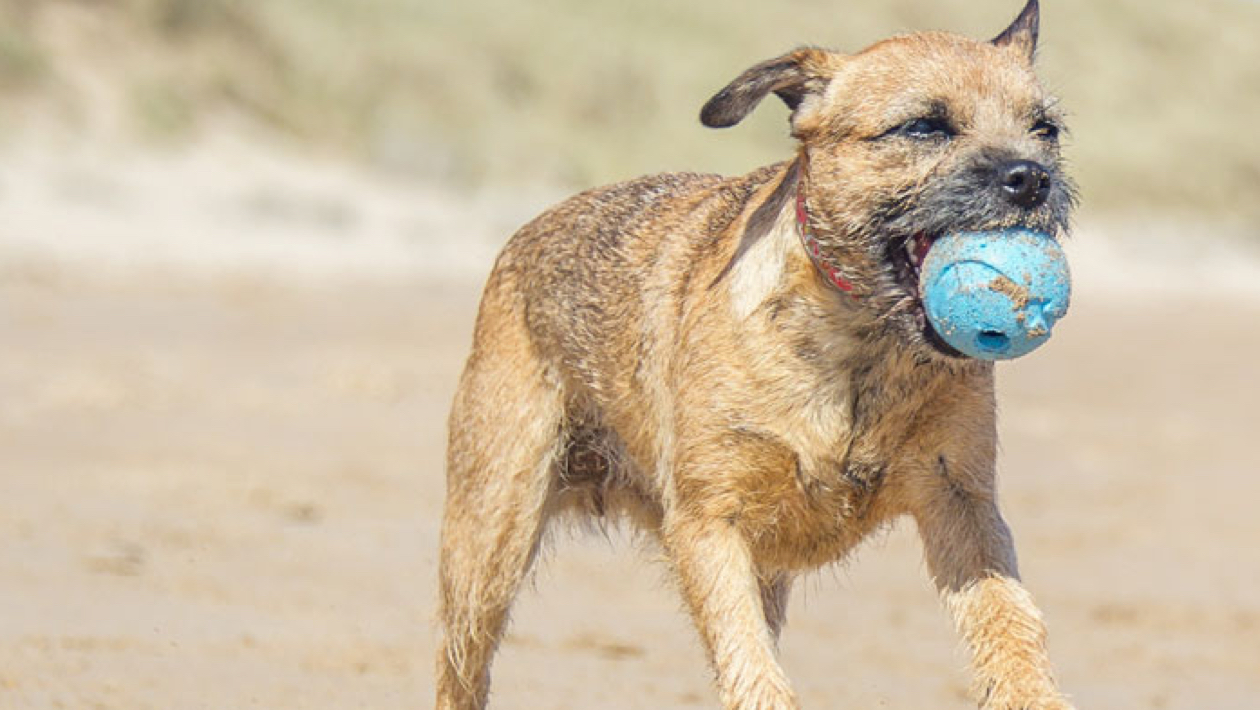 All about your Border Terrier
Affectionate and lively, loving nothing more than the great outdoors.
Border Terriers are smart, good-natured and active, making them a great addition to any family that loves walking. Learn more about this endearing and inquisitive breed, from their grooming and exercise needs to the things you can do to keep them happy and healthy.
Breed information & advice
As part of the terrier breed group, the Border Terrier is loyal, loving and determined. Make sure your garden or yard is fenced as if this dog gets bored they might try to escape. Here's more you should know:
The Border Terrier was bred for assisting on hunts, so will naturally love to search and dig
They'll need brushing once a week and to have their hair properly groomed every five to six months to keep them looking smart
This dog is likely to weigh between 5kg and 7kg
A healthy Border Terrier can live between 12 and 15 years
Typical size of a Border Terrier: Small: 25cm-28cm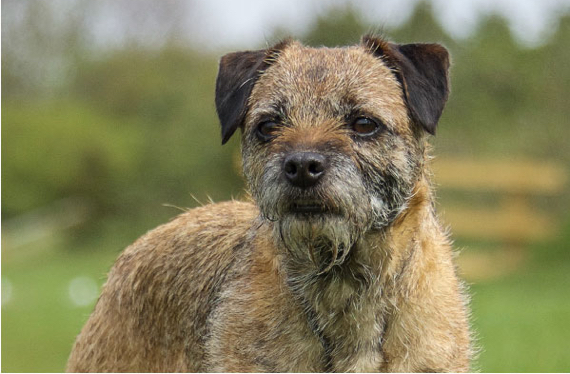 Recommended exercise & nutrition
You should aim to give your Border Terrier up to an hour of exercise each day. As they're active dogs they'll enjoy being off the lead in a fenced garden at home, or an enclosed park where they can play games such as fetch. When walking it's important to use a lead, as they can be quick to run off if they catch a scent. They're fast learners but can be stubborn, so you may want to start training them while they're puppies.
High-quality meals should be provided twice a day to make sure they're getting the right nutrients. The amount will vary depending on their age and how active they are. Always read the food packet for advice.
Up to one hour of exercise per day
Positive reinforcement should be used when training your dog, as Border Terriers were originally bred to be foxhunters and have strong independent streaks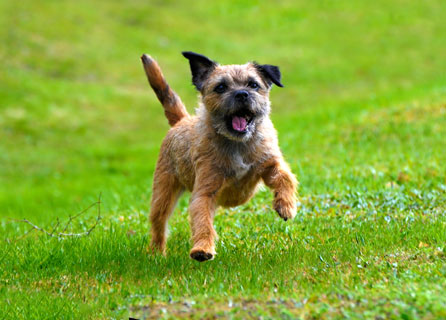 Common health problems & illnesses
Your Border Terrier will need all of the usual vaccinations and check-ups to help protect them against common ailments. There are some conditions which this breed is more prone to though, and you may want to familiarise yourself with the symptoms, so you know what to look out for.
Dog name popularity
If you're struggling to think of a name for your new Border Terrier, take a look at the most popular ones at Tesco Bank Pet Insurance for inspiration.
Average treatment costs
Wondering whether pet insurance for your Border Terrier is worth it? We've put together the top five conditions claimed for by Tesco Bank Pet Insurance customers in 2021. To give you an idea of how much vet bills can vary, we've shown both the average cost and the top 10% most expensive costs for each condition.
Top five conditions and average costs
Top five conditions and average costs

| Condition | Average cost | 10% most expensive |
| --- | --- | --- |
| | | |
| | | |
| | | |
| | | |
| | | |
Tesco Bank Pet Insurance claims data from paid treatments including excesses from 01/01/21 to 31/12/21.
Considering Border Terrier insurance?
We know your dog is an important member of the family, so give them the protection they deserve with Tesco Bank Pet Insurance.
Tesco Bank Pet Insurance is arranged, administered and underwritten by Royal & Sun Alliance Insurance Ltd.
Grooming advice
In order to keep your Border Terrier looking their best, you'll need to brush them weekly and strip their fur every five to six months. Stripping requires plucking as much of the dead hair out by hand as possible, before using a special tool to get the rest. It's something you can do yourself, but you may prefer to find a professional who can do this for you.
As your dog's coat naturally repels dirt, they'll rarely need a bath. An occasional wipe down with a damp cloth after they've been brushed should be enough to keep them looking their best. Trim their nails when needed, usually once or twice a month, in order to keep their feet in good condition.
It's a good idea to brush their teeth daily to keep tartar and any other harmful bacteria at bay.
Fun & interesting facts
Tennis star Andy Murray and wife Kim are fans of this breed.
Border Terriers are fast and agile due to their history as foxhunters, and have a strong instinct to hunt.
They have two coats: the top layer is wiry and waterproof, while the under-layer is soft to insulate them.
They were recognised as a breed by England's prestigious Kennel Club in 1920.
The breed dates back to the 18th century and originated on the Scottish and English border.
Key information
The content on this page aims to offer an informative introduction to pet breeds, but does not constitute expert veterinary advice. If your dog or cat falls ill or has an injury, contact your vet immediately. Tesco Bank Pet Insurance has a partnership with vetfone™ which means that as a customer, you can benefit from their advice as part of your policy.
Tesco Bank Pet Insurance is arranged, administered and underwritten by Royal & Sun Alliance Insurance Ltd. The vetfone™ service is provided by VetsDirect Ltd.
All facts and figures were correct at date of publication and were compiled using a range of sources.
What is vetfone?
Vetfone™ is a 24/7 unlimited, free telephone or video call service that provides expert advice from vets or vet nurses qualified with the RCVS (Royal College of Veterinary Surgeons). If your pet has a medical emergency, or you need advice on health, grooming, feeding or behaviour Vetfone™ is there to help.
As a Tesco Bank Pet Insurance customer, you can access friendly, expert advice from qualified Royal College of Veterinary Surgeons as a standard benefit with your policy, and the service is provided at no additional cost. A quick telephone call or video call could answer any questions you have about your pet, give you peace of mind and could even save you a trip to the vet.
Tesco Bank Pet Insurance is arranged, administered and underwritten by Royal & Sun Alliance Insurance Ltd. The vetfone™ service is provided by VetsDirect Ltd.
Discover more breeds
Browse our other cat and dog guides to learn about some of the UK's most popular breeds.