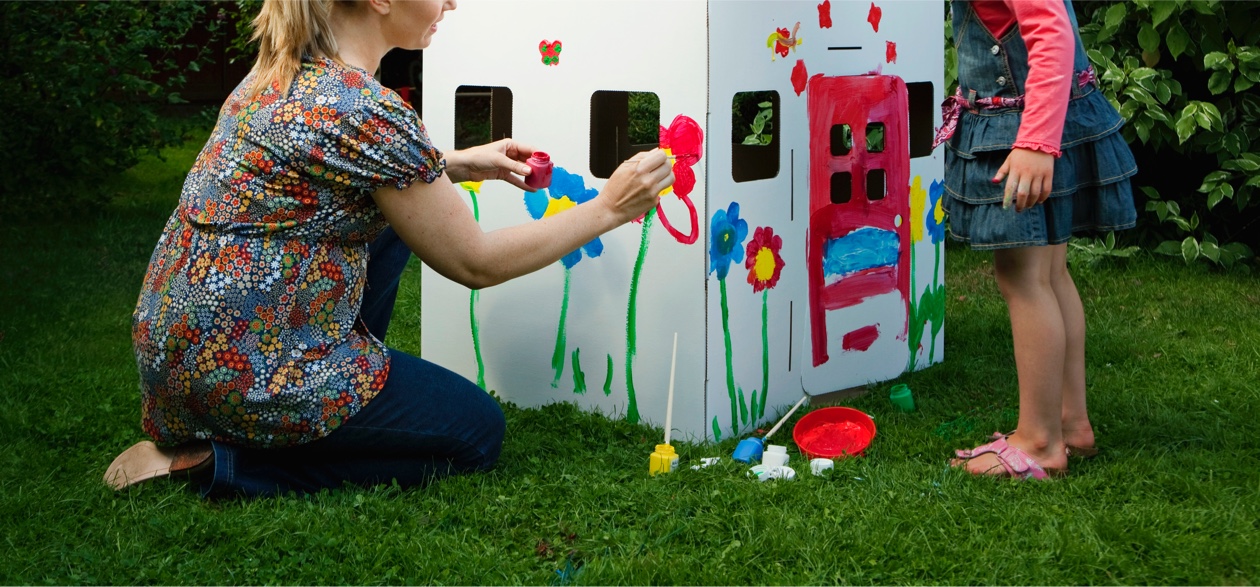 Outdoor activities on a budget
Sometimes there's nothing better than heading out for some family time. But costs can quickly rack up, and with so many of us feeling the squeeze right now, keeping the kids entertained might seem harder than usual. Here's some budget friendly ideas that might help a little.
1. Have a sports day
Organise a family sports day together in the garden or local park and improvise with things around your home.
The sack race: Use old pillow cases or even ask your local fruit/veg shop for free sacks.
The bean bag race: Grab pairs of socks and ball them up.
3-legged race: Use a couple of scarves or ties.
Egg and spoon race: Make sure those eggs are hard boiled!
If you're feeling extra creative, make use of any bat and balls, hula hoops, skipping ropes, goal posts – anything goes.
2. Try a scavenger hunt
There are loads of free printable scavenger hunts online for all ages. One useful site is twinkl.co.uk. Why not get friends and family to join in too? Pack a little picnic and you've got a fun-packed afternoon sorted that doesn't cost a fortune.
3. Get them growing
Planting seeds outside is great to keep the kids busy and gives them the responsibility of looking after something. Start off with simple things like sunflowers or daisies. And if you don't have an outdoor space, there are plenty of things you can grow inside like cress or tomatoes. For lots more fun gardening activities check out this RHS website .
4. Save money with vouchers
Now here's a way to make your money go further and get rewards. Paying with our Clubcard Pay+ payment card helps you get extra Clubcard points. Which gets you more Clubcard vouchers. You can use vouchers to spend at Tesco or get 2x their value for restaurants, days out and subscriptions with Clubcard Reward Partners. A helpful little way to treat the kids.
Tesco Clubcard Pay+ is available to Tesco Clubcard members who are resident in the UK and aged 18 or over. Accounts are subject to status. Minimum spend and exclusions apply when collecting points.
5. Get a Family & Friends Railcard
Taking a family train trip is always great fun but can be expensive. The Family & Friends Railcard is just £30 for the year and saves you up to a third on adult fares and up to 60% on kids tickets. It basically pays for itself in just a few trips.
6. See what's on locally
You could find lots of free local events on Facebook like fetes, craft fairs, community shows and open days. And remember most museums are free, so definitely worth a trip.
7. Get snack-savvy
One of the best tips for thrifty days out is to always remember your packed lunches and water bottles. A round of sandwiches and drinks for a family of four can easily set you back £30 a time while out and about – taking it with you saves a small fortune over the year. If you need some lunch inspiration check out Tesco Real Food's recipes.
8. Get on your bike
Bike riding is a great activity for families – it's a lovely, bonding thing to do together and can lead to so many adventures. As well as being super fun and a brilliant way to travel, it's really thrifty and environmentally friendly.
There's lots of places now that sell refurbished bikes at a fraction of the cost of brand new ones, so be sure to check online before forking out.
9. Go camping
Whether you book a pitch on a campsite or use the garden – it'll feel like an adventure and the kids could learn some new skills. Get them to put the tent up, toast marshmallows, you could even do a bit of bushcraft and teach them how to build an outdoor shelter. A great way to make some memories.

Hopefully you've found some of these tips handy. If you're looking for even more ideas, head over to our guide on indoor activities on a budget.
Important information
The content on this page aims to offer an informative introduction to the subject matter but does not constitute expert financial advice specific to your own situation. All facts and figures were correct at time of publication and were compiled using a range of sources.