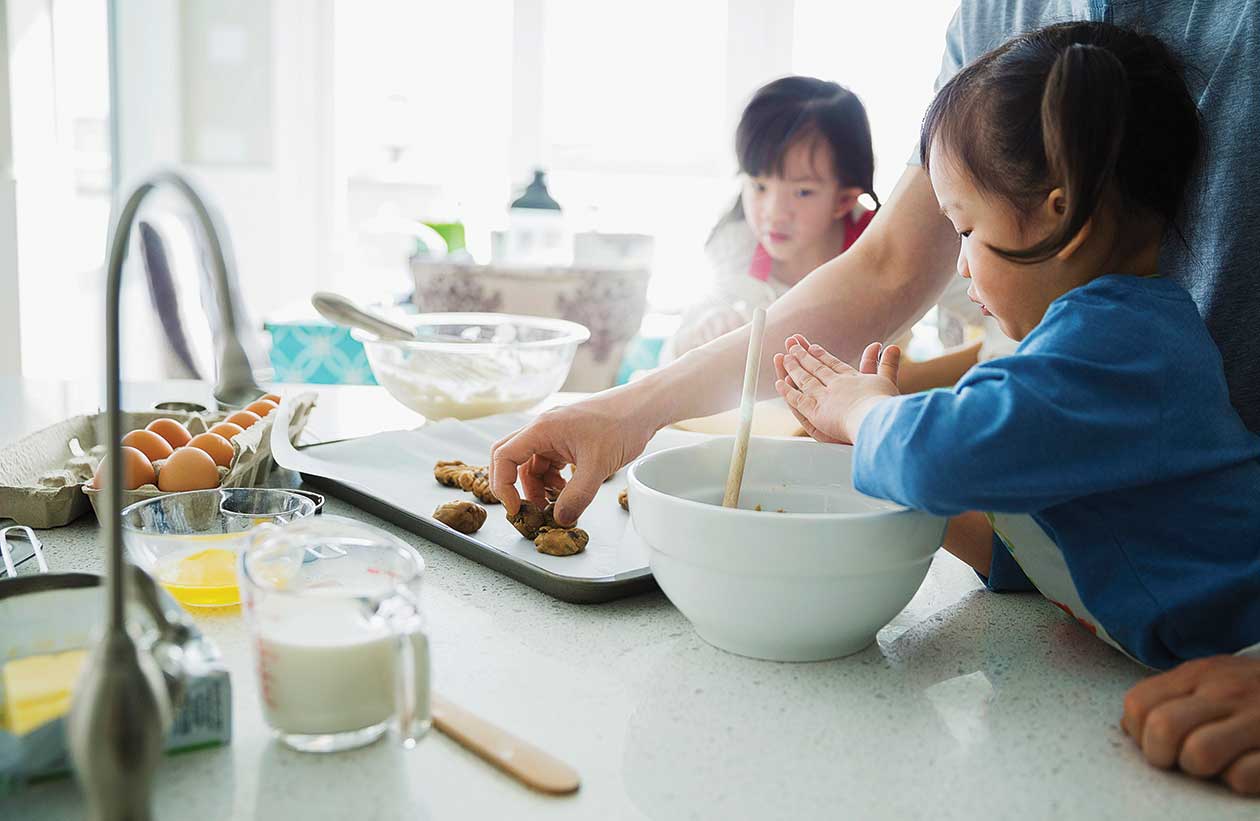 Make your food budget go further.
Want to lower what you spend on your weekly shopping? These simple tips can help you to avoid food waste and be more in control of the cost of your groceries.
Know what you have already
Get to know the contents of your cupboards, freezer and fridge so you don't end up buying something you already have. Stick lists on the doors to keep track of what's inside and bring older items to the front. Pay special attention to fresh things like fruit, veg and dairy items so you can use these up before they go off. Less waste means more savings.
Swap fresh for frozen
Frozen fruit and veg are as nutritious as fresh, often costs less, and will last much longer, meaning less waste. And before you throw out fresh food, remember there are lots of surprising things that freeze really well, including bananas, grated cheese, herbs and even milk.
Love those leftovers
Eating leftovers doesn't just mean reheating yesterday's curry for tonight's dinner. Take a tip from top restaurants: they make sure they use up everything they buy. Veg trimmings and peel can be used to make stock, soups and even crisps, tired salad leaves can be blitzed into sauces, and fruit that's getting soft can be used to make smoothies and desserts. For ideas on using up your leftovers, visit the Tesco Real Food website.
Keep your freezer full
It's better to keep a full freezer than an empty one as it uses less energy. You still need some air to circulate inside but keep the space well stocked and you'll save money. It's also important to defrost your freezer regularly, as ice build-up takes up room and makes the appliance less efficient.
Always plan ahead
Meal planning might sound like another job in an already busy schedule, but it can save you time and money in the long run. Plan meals for the week ahead and use that to form your shopping list. Having a list (and being ruthless about sticking to it) will make sure you only buy what you need. A good rule is 'if it's not on the list, it doesn't go in the basket!' You can use the handy meal planner tool on Tesco Real Food to get you started.
Banish checkout anxiety
There are lots of ways to get help setting a weekly shopping budget and sticking to it. Our Clubcard Pay+ account is one worth finding out about if you're looking to budget whilst making your money go further. For lots more clever tips check out our handy guide.
Tesco Clubcard Pay+ is available to Tesco Clubcard members who are resident in the UK and aged 18 or over. Accounts are subject to status.
Factor in a 'Use-up day'
According to a survey between Tesco and food waste charity WRAP, the average British family throws away £800 worth of food every year. Commit to having at least one day when you make dinner from the random things left in your fridge and cupboards. For recipe inspiration around specific ingredients, try Tesco Real Food's What can I make with…? tool.
Plan for treats
If you're a chocolate lover or ice cream fan you don't have to ditch your treats. A good tip is to pick the one thing you really don't want to go without and include it on your regular shopping list. That way you won't spend money on impulse or buy too much of it.
Be smart about eating out
If you do eat out sometimes, and you're a Clubcard member, make your money go further and choose restaurants that are Clubcard Reward Partners. Your Clubcard vouchers are worth 2x their value when you dine with them, so it's a great way to save some money.
Rescue food for free
Olio is a food-sharing app that connects neighbours and local businesses, so all unwanted food can be shared instead of thrown away. Plus it feels good knowing you've helped save the planet, and it's a nice way to get to know your neighbours!
Minimise the meat
Think about going veggie a few times a week. When you do want meat, buy cheaper cuts that need longer cooking but still create delicious meals. (A slow cooker is a great way to use less energy, and they come in a range of sizes and prices.) Also, try bulking out meat dishes with ingredients such as vegetables and pulses, which cost less and are healthier.
Make a few changes to the way you shop and hopefully at least some of them will become habits that stick. Ultimately you could realistically reduce that all-important spend on your weekly shop.
Important information
Facts and figures were checked for accuracy at the time of publication and curated using a range of sources. While we hope that you find this page useful, please be aware that this is information only and not financial advice.