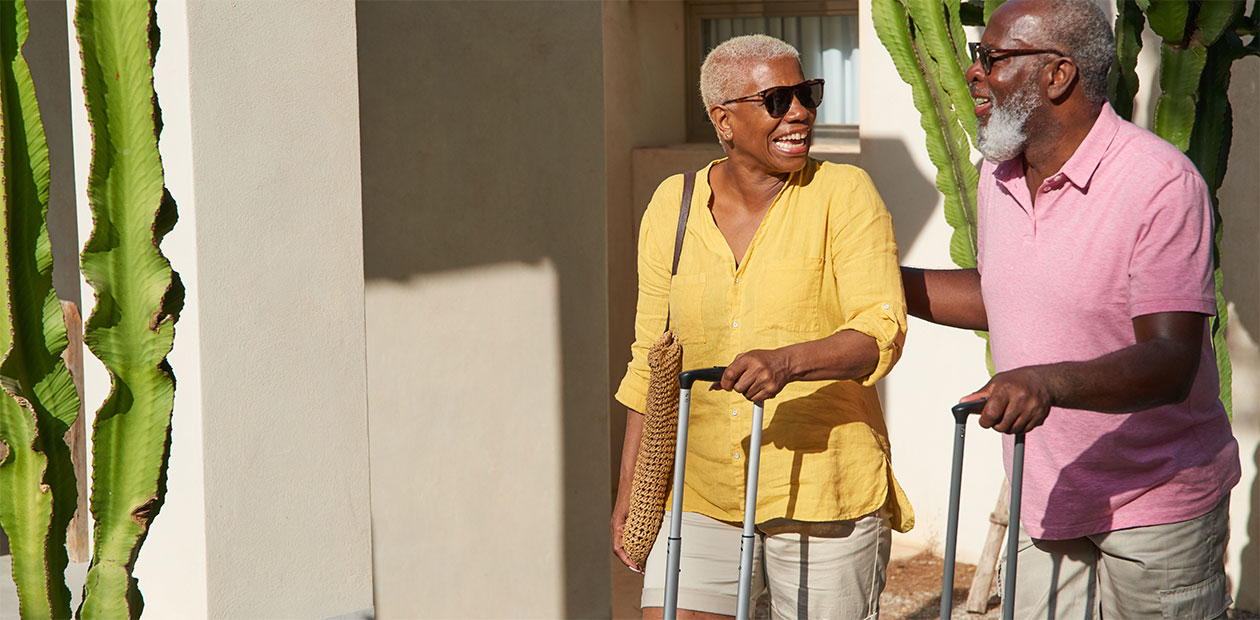 Enjoy a holiday for less with a little planning.
Got your heart set on a dream holiday but your eyes fixed on your budget? Check out our tips on planning ahead to help you save some money.
Plan early
Start searching early to get an idea of what the costs will be. This will help you set a budget so you can be realistic about what you'll be able to afford. With some travel companies you can set up a regular and affordable payment plan to help you spread the cost. Plus you might get your hands on a better deal if you look early.
Sign up for offers
You can often get exclusive discount offers or notice of last-minute cancellation offers by signing up for emails from holiday companies and booking sites.
Clear your cookies
If a travel or airline website knows you have been researching a specific destination and time, its algorithm might keep raising the prices it offers you. Clear your cookies and delete your search history regularly to avoid this.
Don't forget all the costs
Make sure you plan to cover the entire cost of the holiday. This isn't just the flights and accommodation but also things like travel insurance, parking or taxis to and from the airport, holiday clothes, sun cream, spending money, excursions, food and drink, car hire and maybe the odd inflatable.
Package deals
Traditional 'package' holidays for 7, 10 or 14 nights usually work out cheaper than booking flights and hotels independently yourself. Plus you'll have the added cost of taxis to and from the hotel. Just planning a long weekend? Chances are it might be cheaper to book separately.
Do you have to fly?
Heading to a European destination? Check out trains and coach travel, which might be cheaper if you don't mind a longer journey. Sites like Omio are useful for comparing travel costs to European destinations.
Stay off the beaten track
The most popular destinations often come with a premium, but the price can reduce significantly the further away you are from the city centre. Try a quieter area for your accommodation and have a few day trips, you could enjoy the best of both worlds.
Create a holiday savings pot
Saving for something specific helps you keep on track. Work out how much you'll need to save every month to have enough to cover the holiday (including spending money) and make a start. The round-up feature on Clubcard Pay+ allows you to save as you spend, which could help you put aside a bit extra each month towards spending money. Tesco Clubcard Pay+ is available to Tesco Clubcard members who are resident in the UK and aged 18 or over. Accounts are subject to status.
With Clubcard Prices, Clubcard members get a 10% discount when you buy direct from Tesco Bank. Discount doesn't apply to Later Life cover or add-ons. Just enter your Clubcard number when you get your quote. Remember to check you have cover for everything you need like medical expenses, cancelling your trip and baggage or valuables.
Tesco Bank Travel Insurance is arranged and administered by Rock Insurance Services Limited and underwritten by Inter Partner Assistance S.A. UK Branch.
Pack smart
One of the most costly mistakes is turning up for a flight with more luggage than you're allowed. Pack smartly and consider if you really need a big suitcase each or if you can get away with hand luggage only for a shorter holiday.
Get your Travel Money sorted
Work out how much spending money you want to take and order your currency ahead of time. When you buy Tesco Bank Travel Money, we'll give you a voucher code for 10% off our Travel Insurance too. The code is for new policies only when you buy direct and must be used by 31.01.24. Plus, Clubcard members can get this discount as well as their Clubcard discount. The discounts will be applied consecutively.
Remember: looking forward to a holiday is a big part of the fun. From creating a savings pot to finding early deals, it's never too soon to start planning and get that holiday excitement.
Important information
The content on this page aims to offer an informative introduction to the subject matter but does not constitute expert financial advice specific to your own situation. All facts and figures were correct at time of publication and were compiled using a range of sources.
Travel Insurance Offer Additional T&Cs
The voucher code should be entered or quoted when you buy your travel insurance – there is no cash alternative. The code is not valid if you buy through any cashback or price comparison website and only one voucher code can be used per quote. The discount cannot be applied to existing policies or renewals. Not available with Tesco colleague discount and doesn't apply to Later Life policies or product add-ons. The voucher code can't be used in conjunction with any other voucher codes or promotional offers.
Tesco Travel Money ordered in-store is provided by Travelex Agency Services Limited. Registered No. 04621879. Tesco Travel Money ordered online or by telephone is provided by Travelex Currency Services Limited. Registered No. 03797356. Registered Office for both companies: Worldwide House, Thorpewood, Peterborough, PE3 6SB. Travelex Agency Services Limited and Travelex Currency Services Limited are Introducer Appointed Representatives of Tesco Personal Finance plc for Travel Insurance.