Already a Premium Credit Card Customer?
Information about your benefits
We hope you're enjoying the benefits your Premium Credit Card brings and the wide range of rewards you can take advantage of.
The great thing about your card is that it's the fastest way to collect Tesco Clubcard points when you shop, meaning you can do more of the things you love, sooner. And all without having to change the way you shop.
If you need a reminder of the benefits the card gives you for your annual fee, look no further, we've provided a handy summary below.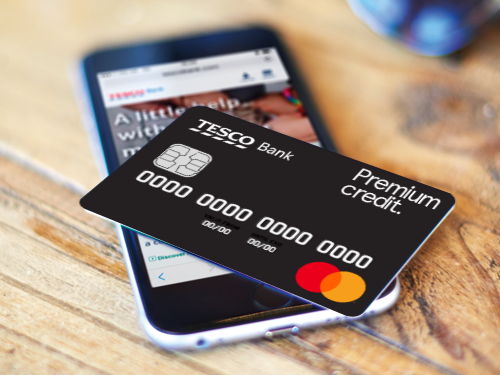 Premium Credit Card benefits
Tesco Clubcard Points
Using your Premium Credit Card is the fastest way to collect Clubcard points when you shop, helping you do more, see more and experience more sooner.
Your Premium Credit Card is your Clubcard. That means for every £1 spent (£1 minimum) on your card at Tesco, you'll not only collect your normal 1 Clubcard point for your shopping, you'll also collect an extra Clubcard point on top so you'll be collecting twice as fast on most purchases.
Don't forget, you'll also collect 1 Clubcard point for every £4 spent (£4 minimum) on your card outside of Tesco whether it's online or on the high street.
It's also worth knowing
There are some products at Tesco you won't collect Clubcard points on. Find out more at the Clubcard website. Clubcard points also can't be collected on some transactions including Travel Money, balance transfers and money transfers.
The Clubcard points collection rates apply to each purchase transaction and are subject to change.
You must have available credit on your card.
The Tesco Clubcard Scheme is administered by Tesco Stores Limited, Tesco House, Shire Park, Kestrel Way, Welwyn Garden City, AL7 1GA, who are responsible for fulfilling points.
Tesco Clubcard Rewards Partner
Once you have collected 150 Clubcard points, you get a £1.50 Clubcard voucher and Clubcard vouchers are sent out four times a year in the Clubcard statement. Or download the Tesco Groceries and Clubcard App to use your vouchers faster.
You can spend your Clubcard vouchers on your shopping at Tesco or you can get even bigger savings with Clubcard Reward Partners, up to 2x your Clubcard voucher value to use for your next trip, a family day out, a meal or treat yourself or a loved one to something special.
Visit the Clubcard website to help you decide how to get the most from your Clubcard vouchers.
Tesco Clubcard Points Bonus
Once you've spent £2,500 in qualifying spend on your Premium Credit Card in Tesco in any year you'll collect your 2,500 bonus Clubcard points. You will only collect these bonus Clubcard points once per year. See additional terms and conditions below.
Additional benefit terms and conditions
Qualifying spend includes any purchase transactions in Tesco Stores UK (excluding Tesco Mobile and Tesco Travel Money), Tesco.com (UK only), F&F Clothing and Tesco Petrol Filling Stations (UK only, excludes Esso).
A year begins on the date the account was opened and each anniversary of that date, and ends 12 months later.
Any refunds that you receive for returned items will be deducted from your total spend in that year. These Clubcard points will be added to your Clubcard Account within 45 days of the end of the relevant year and will be included in your next Clubcard statement after that.
Travel Money
Off on your travels? As a Premium Credit Card customer, you'll receive a 1% enhanced exchange rate on Tesco Travel Money when you buy at the in store bureau. So next time you're in Tesco, why not pay the Tesco Travel Money Bureau a visit.
You'll need to present your Premium Credit Card prior to purchase and be the named cardholder.
The offer applies to the advertised in store standard rate on the date of purchase for foreign currency notes and pre-paid foreign currency cards.
A 1% enhanced exchange rate is only available in store on currencies in stock and exchange rates may vary depending on whether you buy in store or online.
This benefit isn't available in conjunction with any other Tesco Travel Money offer including Price Match.
Tesco Travel Money ordered in store is provided by Travelex Agency Services Limited. Registered No. 04621879. Registered Office: Worldwide House, Thorpewood, Peterborough, PE3 6SB.
Annual Fee
Annual Fee
The annual fee for the Premium Credit Card is £36 per year. This fee will be charged on the statement issued in the anniversary month of your account opening.
Other customers have been asking:
Contact us
Our UK teams are here for you 24 hours a day, seven days a week. Yes, even Christmas day.
Some things to remember
Our credit facilities are available to over 18s and UK residents only, subject to status.
You can view the Benefits Terms and Conditions below: