Travel Money
Clubcard Prices

Clubcard Prices
Clubcard Prices are available for all currencies, just enter your Clubcard number on the next page. Full T&Cs below.
Click & Collect

Click & Collect
Collect for free from more than 500 Tesco stores.
Home Delivery

Home Delivery
Free delivery on orders worth £500 or more.
Exchange rates may vary during the day and will vary whether buying in store, online or via phone.
Select currency
Error: Please select if you have a Clubcard to continue
Do you have a Tesco Clubcard?
How much would you like?
Error: Please enter an amount between £75 and £2,500
Get a better exchange rate as a Clubcard member
Find a Store to get your Travel Money
With Click & Collect you can order your travel money online and pick it up from selected Tesco stores near you, or you can buy instantly from an in-store travel money bureau.
Enter a postcode or location
Find my location
There are no results for your search, please try again.
3 easy ways to purchase Travel Money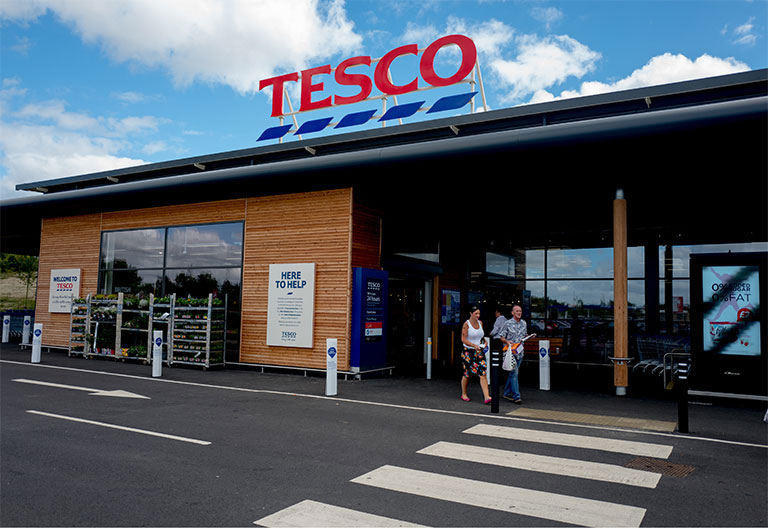 Click & Collect
Order online and choose to collect from over 500 Tesco store locations
Pick a collection day that works for you
Order Euros or US Dollars before 1:30pm and you can pick-up from most stores the next day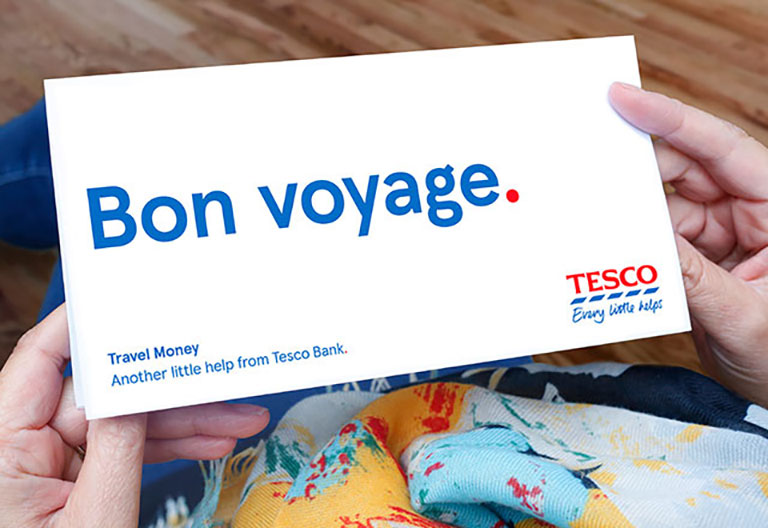 Home delivery
Order online by 1.30pm Mon-Thurs for next day delivery (excludes bank and public holidays), to most parts of the UK
Free delivery for orders of £500 or more
Secure delivery via Royal Mail Special Delivery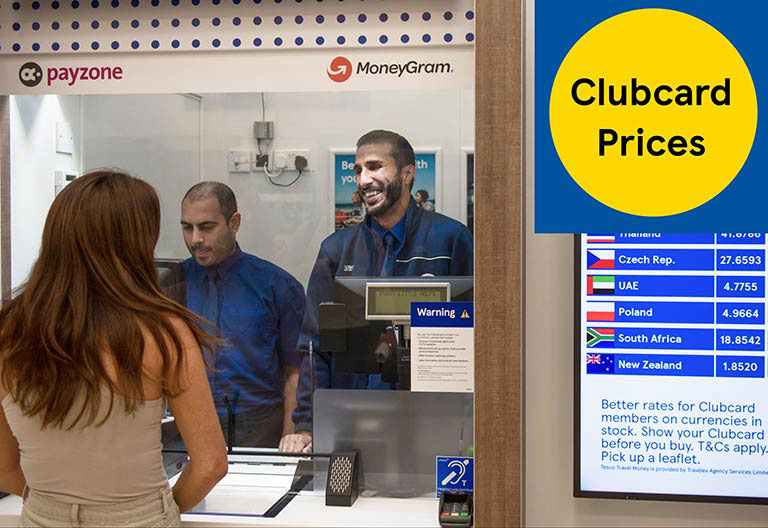 Buy in-store
Buy your foreign currency instantly in our travel money bureaux in selected Tesco stores across the UK
Turn unspent travel money back into Pounds with our Buy Back service

Best Travel Money Provider
Now in it's 25th year and voted for by the public, the Personal Finance Awards celebrates the best businesses and products in the UK personal finance market. We're delighted that you voted us Best Travel Money Provider 2022/23.
10% off our Travel Insurance when you buy Tesco Travel Money
As a little thank you, when you buy your travel money with us, we'll give you a voucher code for 10% off our Travel Insurance. The code is for new policies only when you buy direct and must be redeemed by 31 January 2024.
Plus, Clubcard members can get this discount as well as their Clubcard discount. These are applied consecutively.
Tesco Bank Travel Insurance is arranged and administered by Rock Insurance Services Limited and underwritten by Inter Partner Assistance S.A. Travelex Agency Services Limited and Travelex Currency Services Limited are Introducer Appointed Representatives of Tesco Personal Finance plc for Travel Insurance.
Click & Collect
Click & Collect
Ordering and Collection
You can pick a collection date when you're ordering your money. Order before 1:30pm and you can pick up Euros and US Dollars from most Tesco Travel Money bureaux the next day. Other currencies can take up to five days. Alternatively, you can order any currency for next weekday delivery to most of the selected customer service desks.
Please make sure you collect your money within four days of your chosen date. If you don't, your order will be returned and your purchase will be refunded, minus a £10 administration charge.
What to bring
For security, travel money will need to be picked up by the person who placed the order.
You'll also need to bring:
a valid photo ID – either a passport, EU ID card, or full UK driving license (we do not accept provisional driving licenses)
your order reference number
the card you used to place the order (you'll also need to know the card's PIN)
Home Delivery
Home Delivery
Delivery costs
£4.99 for orders of £75 - 149.99
£3.95 for orders of £150 - 499.99
Free for orders of £500 or more
Please note:
You'll need to make sure there's someone at home to sign for your delivery.
Bank holidays and public holidays will affect delivery times.
We are unable to cancel or amend home delivery orders after they have been placed.
Travel Money Clubcard Prices online additional T&Cs
Clubcard Prices
Clubcard Prices are available on the sell rate only for currencies in stock online, on your date of purchase. The Clubcard Price will be better than the standard rate advertised online on the date of purchase. When purchasing online you must enter a valid Clubcard number to obtain the Clubcard Price rate. Exchange rates may vary whether buying in store, online or by phone.
Clubcard Prices apply to foreign currency notes in stock on your date of online purchase. Due to constant market and currency fluctuations, rates on the date of purchase cannot be compared to another day's rates. The actual rate you receive may vary depending on market fluctuations. Clubcard data is captured by Travelex on behalf of Tesco Bank.
Check out the Tesco Bank privacy policy to find out more.
Card fees and cancellations
Buying foreign currency using a credit or debit card
No matter how you purchase your travel money, whether it be in store, online or over the phone, you will not be charged any card handling fee by us. However, regardless of your card type, your card provider may apply fees, e.g. cash advance fees or other fees, so please check with them before you purchase your travel money.
Click & Collect cancellations
You can cancel a Click & Collect order any time prior to collection. We'll refund you with the full Sterling amount that you paid for your order, unless you cancel less than 24 hours before your collection date, in which case we'll charge a £10 late cancellation fee.
We are unable to refund any fees charged by your card issuer, so please contact them if you have any further queries.
Currency buy back
When you get home, we'll buy your travel money back
Let us turn your unspent holiday money into Pounds. It couldn't be simpler.
Just pop into one of our in-store Travel Money Bureaux when you get home. We buy back all the currencies we sell in most banknote values and also the Multi-currency Cash Passport™. Buy back rates may vary during the day.
It doesn't matter where you bought your travel money, even if it wasn't from a Tesco Travel Money Bureau, we'll still buy it back.
Price Match
How our Price Match works
If you find a better exchange rate advertised by another provider within three miles of your chosen Tesco Travel Money Bureau, on the same day, we'll match it.
Price Match only applies in store on a like-for-like basis on sell transactions and does not apply to any exchange rate advertised online or by phone. This is not available in conjunction with any other offer. We reserve the right to verify the rate you have found and the three mile distance (using an appropriate route planning tool).
See full terms and conditions below.
Key product information
Tesco Travel Money is provided by Travelex
Tesco Travel Money ordered in store is provided by Travelex Agency Services Limited. Registered No. 04621879. Tesco Travel Money ordered online or by telephone is provided by Travelex Currency Services Limited. Registered No. 03797356. Registered Office for both companies: Worldwide House, Thorpewood, Peterborough, PE3 6SB.
Multi-currency Cash Passport™ prepaid currency card is issued by PrePay Technologies Limited (PPS) pursuant to license by Mastercard International. PPS is an electronic money institution authorised by the Financial Conduct Authority under the Electronic Money Regulations 2011 (FRN:900010) for the issuing of electronic money and payment instruments, with its registered office at Floor 6, 3 Sheldon Square, London, W2 6HY, UK. PPS is registered in England under company number 04008083. Mastercard is a registered trademark, and the circles design is a trademark of Mastercard International Incorporated.
Travel Insurance offer additional T&Cs
The voucher code should be entered or quoted when you buy your travel insurance – there is no cash alternative. The code is not valid if you buy through any cashback or price comparison website and only one voucher code can be used per quote. The discount cannot be applied to existing policies or renewals. Not available with Tesco colleague discount and doesn't apply to Later Life policies or product add-ons. The voucher code can't be used in conjunction with any other voucher codes or promotional offers.
How much travel money will I need?
Whether it's a burger in Brisbane or a taxi in Toronto, get a feel for how far your travel money might go with our foreign currency guides. We'll help you manage your travel budget like a pro.