What is Tesco Pay+?
It's a fast, simple and secure way to pay in Tesco with your phone.
When you pay with the Tesco Pay+ app, you'll collect your Tesco Clubcard points automatically, all with a simple scan of your phone.
You can also keep track of your spending, and use the app to pay at checkout even when your phone is offline.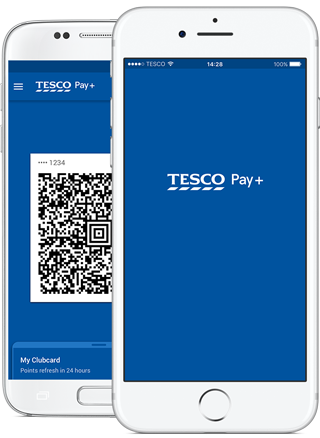 Getting started
Can I use Tesco Pay+?
If you've got an iPhone or Android phone, you can use Tesco Pay+ to pay for your shopping and collect Clubcard points in every Tesco store and petrol station in the UK.
How do I get Tesco Pay+?
Just download the app from the App Store or Google Play.
Sign in with your Tesco Groceries account details or register in the app to get up and running in minutes.
Other customers have been asking about Tesco Pay+:
Have more questions?
If you're having trouble using Tesco Pay+ or you'd like to give us feedback to help improve it, just head to the Feedback section of the app or give us a call on:
Open Monday to Saturday from 8am - 8pm and Sundays 9am - 6pm
Disclaimer
Tesco Pay+ is operated by Tesco Bank.
Apple, the Apple logo, and iPhone are trademarks of Apple Inc., registered in the U.S. and other countries. App Store is a service mark of Apple Inc. Google Play is a trademark of Google Inc.